Veronica M
Sunk: November 10, 2004
Depth: 76 feet
Orientation on bottom: North to South
Former Name: Captain Bill
Last Owner: McAllister Towing Inc.
Reef Sponsor: Herb & Veronica Segars
Port of Operation: Boston, MA
Year Built: 1950
Built by: Jacobson Shipyards of Oyster Bay, Long Island, NY
Length: 110 feet
Beam: 27 feet
Draft: 12 feet
Gross Tonnage: 199 tons
Net Tonnage: 111 tons
Height: 35 ft to top of wheelhouse - 16 ft to main deck
Speed: 12 knots
Fuel Capacity: 10,000 gallons of #2 diesel oil
Official ship number: 259281
Interesting Facts: 120 in bronze propeller and
500 lb anchor sunk with tug
---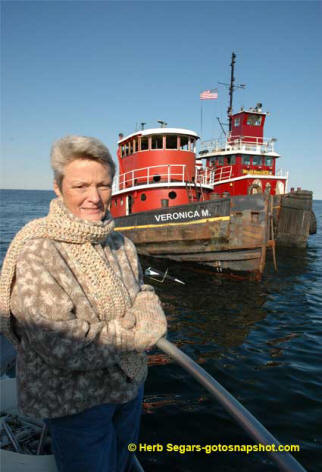 Veronica Segars waits for her tug to slip beneath the waters of the Atlantic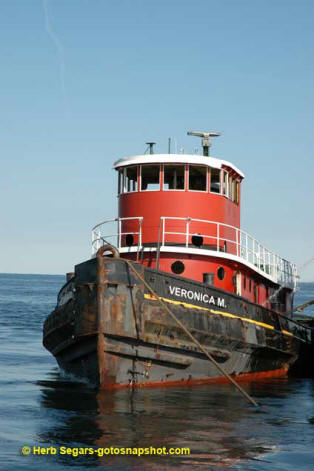 The 100' long tug donated by McAllister tugs
---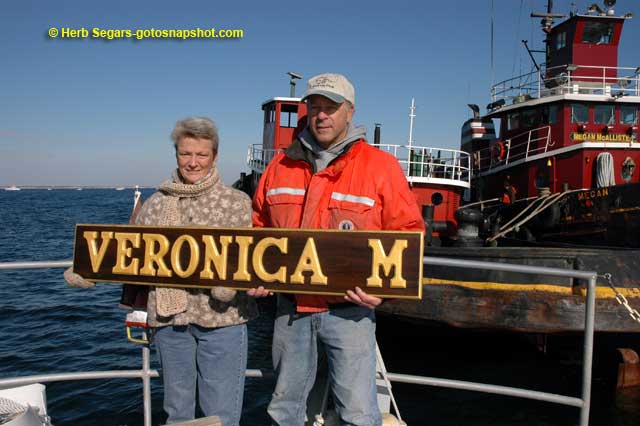 ---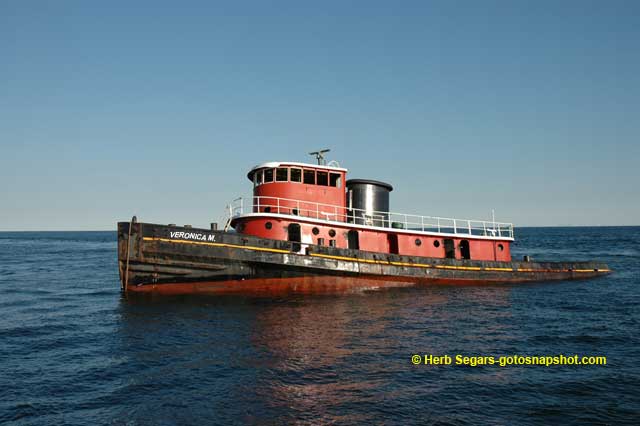 ---
On November 10, 2004, the 110' long former McAllister tug, Captain Bill, was sunk on the Axel Carlson Artificial Reef off Bayhead, NJ. The site will be renamed the Veronica M. after Veronica Segars, pictured above. The day started as we awoke to a temperature of 27 degrees, beautiful sunshine and a light north wind. We met at the Diversion, a charter dive boat owned by Steve and Barbara Nagiewicz at 8:00 am.. The Diversion left the dock around 8:45 am to meet the McAllister tug Megan McAllister which had towed the Veronica M. to her final resting site. The sinking process took over four hours. When the stern of the tug was low in the water, the Megan McAllister steamed by, producing a wake that washed over the stern of the tug. It took less than 40 seconds for the Veronica M. to slip below the waves. She made one bump as her stern hit the bottom and then she was gone.
All of us in the Segars family would like to thank the New Jersey DEP, the New Jersey Artificial Reef Program, Bill Figley, Jeff Carlson, McAllister Tugs, Beth Dalzell, Warren & Robin Reed, Rich Galiano and Steve and Barbara Nagiewicz for making this possible and for being a part of this wonderful experience.

To see a video of the tug sinking, click on the photo. This video is best viewed in Windows Media Player. You can download it here for free.
Click on the icon below. The video size is just under 1mb so it is best for broadband users.