11 Aug
Posted on 2014 under
Beth Dalzell
,
Big Fish Expeditions
,
Caribbean Sea
,
Ctenosaura pectinata
,
Herb Segars
,
Iguana
,
Isla Mujeres
,
Lizard
,
Mexican spiny-tailed iguana
,
Mexico
,
Nauticam
,
Olympus OM D-EM1
,
Panasonic 8mm Lens
,
People
,
Photography
,
Rhincodon typus
,
Rose Baptiste
,
Sharks
,
Snorkeling
,
Underwater Photography / Scuba Diving
,
Veronica Segars
,
Watersports
,
Wes Dalzell
,
Whale Shark
|
2 Comments
My wife, Veronica and I along with our friends, Beth and Wes Dalzell, participated in an excursion to swim with whale sharks,Rhincodon typus, off Isla Mujeres, Mexico in the Caribbean Sea. I am writing this blog post to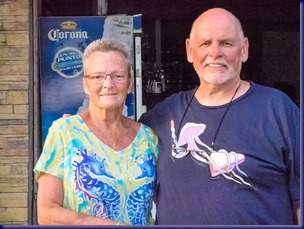 explain what it is like to do this trip. I think that the four of us had different expectations as to how easy or hard this trip would be. I can say that I thought of slow-moving, very large animals that I would be able to photograph at my leisure. How wrong I was! One thing that we all realized very quickly was how important it is to have a company that plans everything in advance. For us, that company was Big Fish Expeditions. The company is run by Andy Murch and Laura McColl. We fell in love with both of them so easily that we wondered why we hadn't been away with them before. They took care of everything. After we landed in Cancun, Mexico, we met Laura and Andy at a bar next to the airport and we sat and had a drink while waiting for more of our group. Once we were ready, there where shuttles waiting to take us to the ferry from Cancun to Isla Mujeres.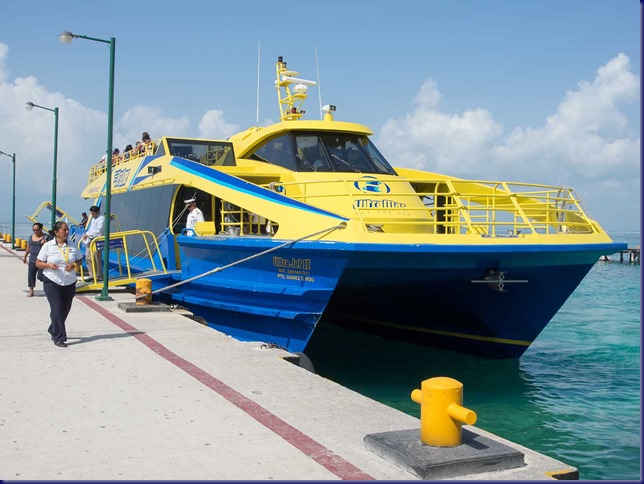 We arrived at the ferry and Laura had our tickets for the round-trip to Isla Mujeres and back. The ride took about 20 minutes in air conditioned comfort. That was great because the temp for our time on Isla Mujeres was 91 degrees with 100 percent humidity. Whenever we ventured out, we were soaked in about ten minutes. Usually, this is not my cup of tea but the action offshore made it much more bearable.
After our ferry ride, we were all placed in taxis for a short ride to our hotel, the Na Balam. It is a beautiful resort that is on the ocean. Our rooms were not ocean front but they were great for our situation. Our room faced the pool and it was a great place to cool off from the high temps and humidity. My wife, Ronnie, had a tough trip with some Montezuma's revenge issues that she had before we left the US. No one should come to Mexico with the kind of problems that she had. Most people leave Mexico with those problems. Fortunately, Ronnie is a real trouper and dealt with her issues rather than have them ruin our trip. We checked into our room, adjusted the air conditioning and relaxed until dinner time. Every night was great – most of the group had dinner together and Andy and Laura joined us every night. One of the great things about a trip like this is the group and how well they mesh together.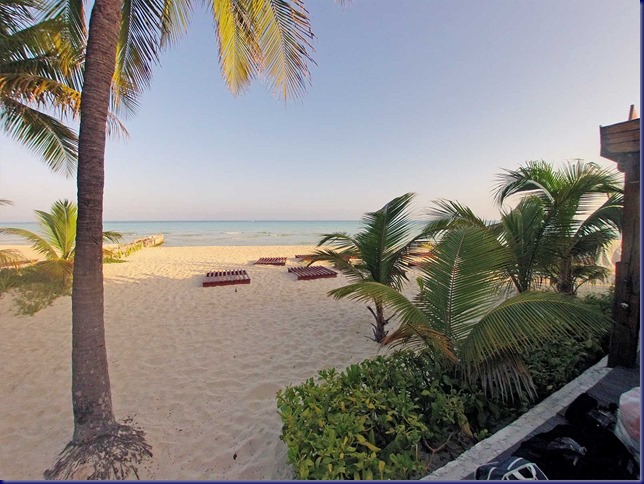 Our group was amazing.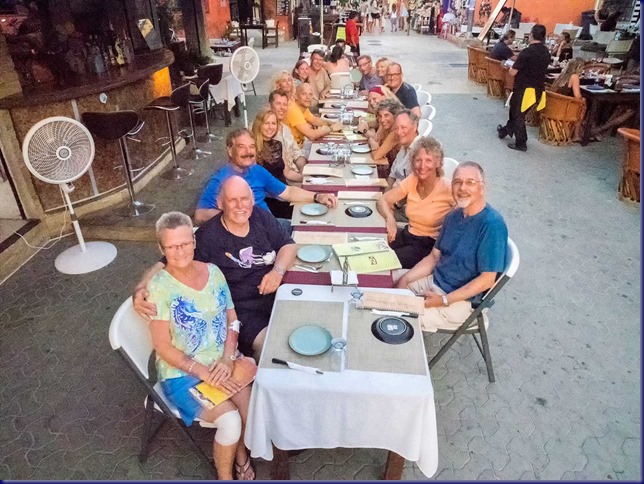 We had starting at bottom left, Veronica & Herb Segars from Brick, NJ, Ken Freedland from St. Louis, Missouri, Laura McColl and Andy Murch (group leaders) from Victoria, British Columbia, Terry Steeley from the UK, Anna Romano from Brooklyn, NY, Christina and Patrick Pyles from the Washington, DC area, Tom Sabia and Lee Ann Sapp from Baltimore, Maryland, Simon and Zoe Spears from the UK, Donna Gulezian and Matt Burg from New Haven, Connecticut, and Beth and Wes Dalzell from Brick, New Jersey. We had six people on each boat and the matches were perfect.
Okay, so now that we are here and ready to go out and see and photograph whale sharks, what was it really like. Every morning, we would meet for breakfast around 7:00am and have toast with butter and jam or a fruit plate. That was a good and light way to start off the morning. The kitchen at Na Balam didn't open until 7:00am but they accommodated our early visit so that we could get out with the whale sharks. It didn't take long before we were calling them "sharks" or "whales" and sometimes when we caught ourselves, we called them appropriately by "whale sharks."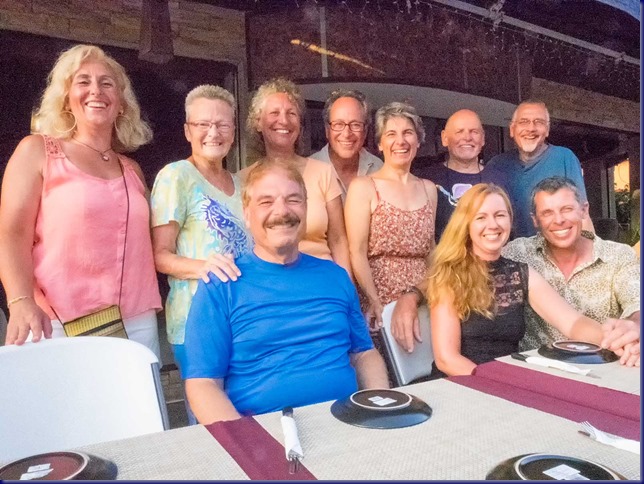 There were six of us on the boat and we went in groups of three. Usually, it was Beth, Wes and me and then Matt, Donna and Ken. This was our boat group except for Anna Romano (back row, first on left) who was on the other boat. Front Row L-R, Ken Freedland, Laura McColl and Andy Murch. Back row L-R, Anna Romano, Veronica Segars, Beth Dalzell, Matt Burg, Donna Gulezian, Herb Segars and Wes Dalzell. We were very happy with the groups and we meshed together well.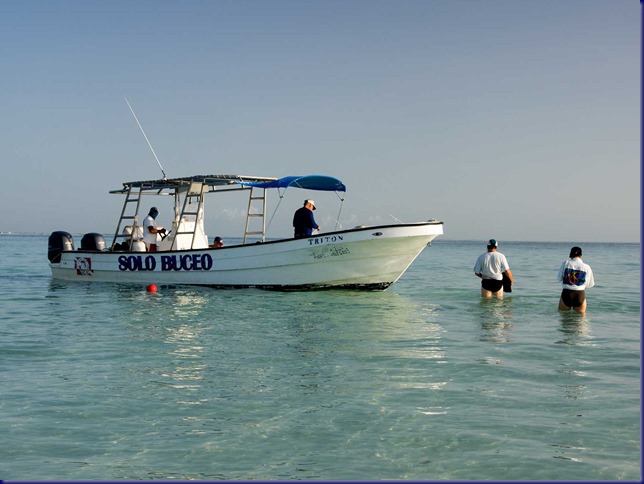 The boats would approach the beach and we would wade out with our gear into waist high water and board the boats. The boat had a sturdy ladder but it did not have a head (bathroom). It was not an issue for most of us. It was at least an hour boat ride out to where the whale sharks were and our adventure began. On the first day, we were all apprehensive as we didn't know what to expect. Our first encounter revealed that these animals were huge, much bigger than most of us expected.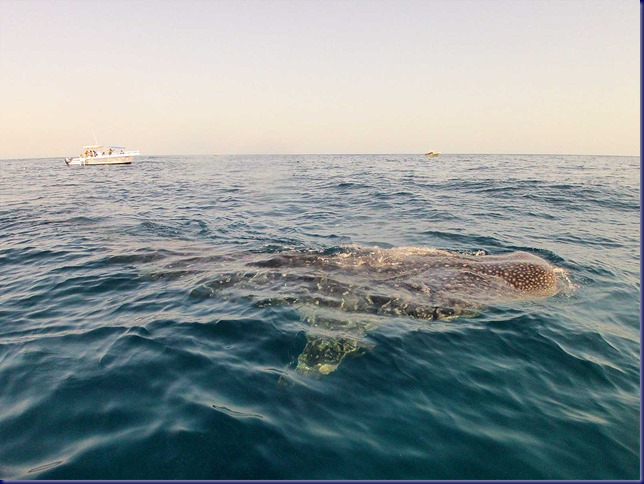 The second awakening came when we got into the water with them. Any thought that they were slow-moving vanished quickly as we saw a slight flick of the tale and they were zooming past us. If you want to stay with a whale shark – be prepared to kick for your life. Matt Burg had his trusty Force Fins with him and they just were not up to the job. I had really pondered about bringing mine and at the last minute decided to bring my new normal fins and I was really happy that I did. Part way through the week, Matt started using a pair of normal fins that were on the boat and he did much better keeping up with the whale sharks.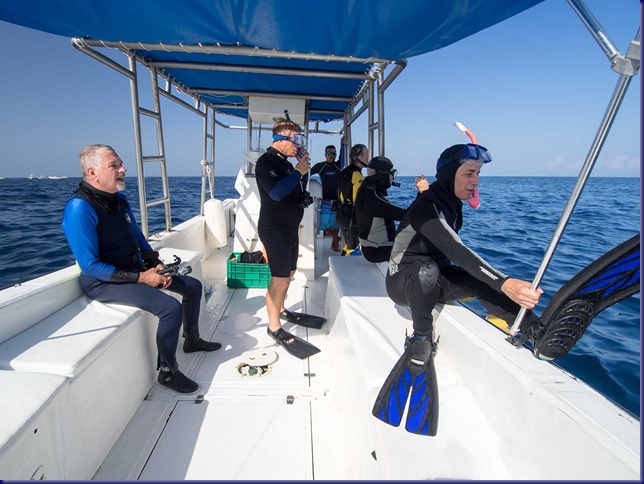 The first day had the most whale sharks – probably more than a hundred.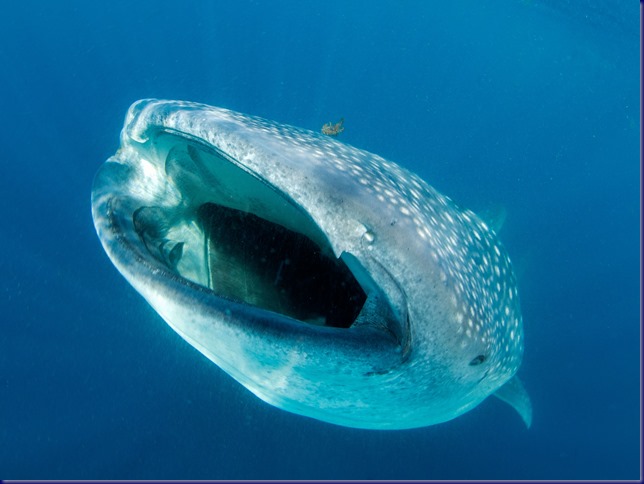 My first thought when seeing a whale shark underwater was how big they are. They reach a length of 46' and we saw many that were easily 35'-40' long. The smallest one that we saw (only from the boat) seemed to be ten feet long or less. Their mouths are nearly four feet across. But not to worry, they feed on plankton and fish eggs and are not harmful to humans. I was directly in front of one and it stopped gulping water until it passed me. The only issue to be careful of is getting swatted by their huge tail. I did a few times and although it didn't hurt, I imagine that it could.
I soon learned that photography would not be as simple as I assumed. It is very difficult to look through the camera viewfinder and shoot while trying to swim alongside a whale shark. For most photographers, it became a game of point-and-shoot. I was one of the lucky ones. My Olympus OMD-EM1 has an LCD screen that you can using for photographing. Although I couldn't see details well on the LCD (mainly because I was swimming like mad) but I could tell whether the entire whale shark was in the photo or not. I could also do some composition using the LCD screen. I floundered with this concept on the first day but still managed to get some good photos.
The settings that I ended up using for the four days were "A" aperture priority – I set the lens opening and the camera sets the shutter speed. I used f9 for my aperture so that I would get a descent depth of field. I set the white balance to auto and the ISO to auto. I don't usually do this but with the fast paced action, I didn't have time to keep checking the light levels. The auto ISO gave me ISO values in the 200 range for the entire trip. On the first day, I set my exposure compensation to –0.3 to underexpose the photo slightly. On days two through four, I changed to –0.7 as I thought that the highlights in the photos were a little too bright. It was almost like using a point-and-shoot camera. I used a Panasonic 8mm fisheye lens and a Zen 100mm port. The fisheye was necessary to get the entire whale shark in the photo. I brought an Olympus 9-18mm rectilinear lens but never used it in the water.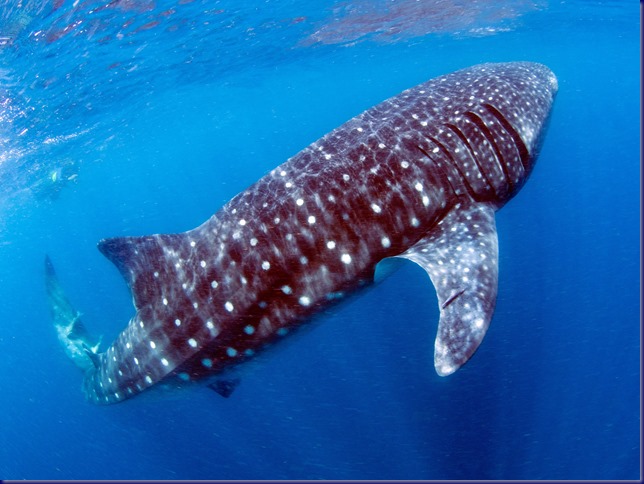 One our second, third and fourth days, I was really happy with the LCD. Our encounters varied from day to day. Each day was different but we managed to get some quality whale shark time.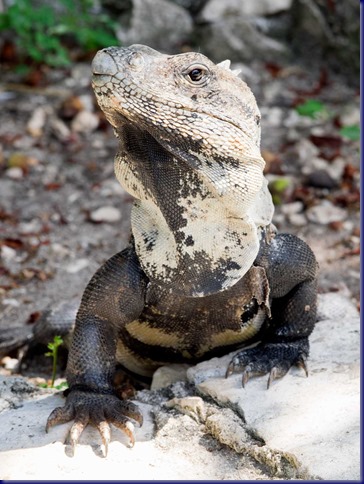 The no-head on the boat did affect one of our group and that was my poor wife, Veronica. She somehow contracted Montezuma's revenge before we even left for Isla Mujeres and it did let up while we were there even with a prescription of Lomotil from a physician at home. She spent her time at the pool and close to the room. While she was at the pool, she made friends with "Iggy", a large local iguana. I think that Iggy is a Mexican spiny-tailed iguana, Ctenosaura similis, which is also known as the black iguana.
While Veronica was in the pool, Iggy would come out onto the deck around the pool and hang out in the sun. When Veronica would get in a position where Iggy couldn't see her anymore, Iggy would move closer to see where she was.
At times, Iggy went off hunting, climbing into the trees and shrubs to feed on the local vegetation.
The pool served a dual purpose for Veronica, Iggy time and cooling off from the sweltering heat and humidity.
Although Veronica couldn't go on the boat, I tried to capture as much of the whale shark experience on still photos and video to make her feel a part of it.
If you are going to use a GoPro Hero camera for your shooting, the LCD back is a great investment. It is inexpensive (about $80 USD with the appropriate back for the GoPro camera). The LCD back isn't easy to use in the bright sunlit waters while snorkeling but it is a definite advantage over pointing-and-shooting. We had an unfortunate experience with one member of our group. He and his wife were having a drink at a local hotspot and a woman sat down with him and start chatting about his GoPro Hero camera – asking questions about how he liked it and how he used it. While they were chatting, someone unzipped his mesh bag, took the GoPro and zipped the bag up. He was sure that the woman was involved but she simply stated "I don't have your GoPro." I am sure that she didn't have it but I bet that she knew who did. Our group member wished that he could have at least got his memory card back with a day's worth of whale shark videos and stills.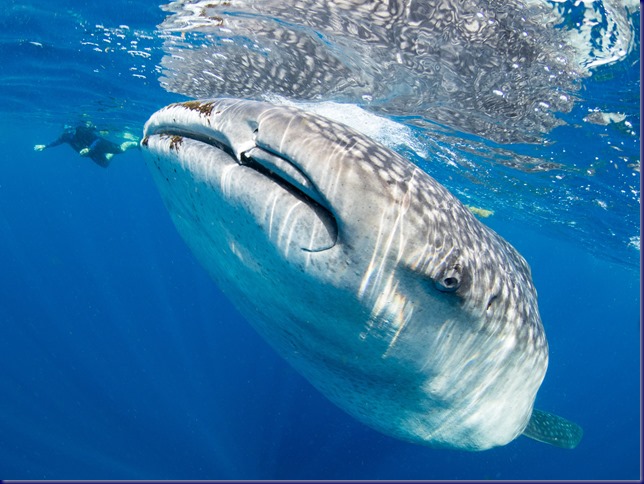 I didn't get in the water with Ken Freedland very often (he was in our other group of three) but we did on one encounter and we were both able to stay with a whale shark and I got some great photos of Ken and the whale shark.
Now if you are not a great swimmer, don't think that you will not have whale shark encounters. Many encounters started with the whale shark swimming straight towards the boat. Each group would have legs hanging over the gunnel of the boat and we would all launch when the captain said "Go, Go!" The swimming part comes in after that when you try to stay with the shark. These supposedly (in my mind) slow-moving animals were everything but that. A few easy swipes of the tail and they were long gone.
At the end of each day on the water, we would return to shore where the beach front water was packed with boats and people. It was often a chore for the captain to thread his way into the shallows for us to disembark.

Every night, most of the group would head to town for dinner. The menu varied from Italian to steak to Mexican and almost everything in between.
One of my favorite restaurants was Mama Rosa Pizzeria and Ristorante Italiano. The food was great but so was the name. Beth Dalzell's mom, Rose (Rosa) Baptiste, is one of Veronica and my favorite people.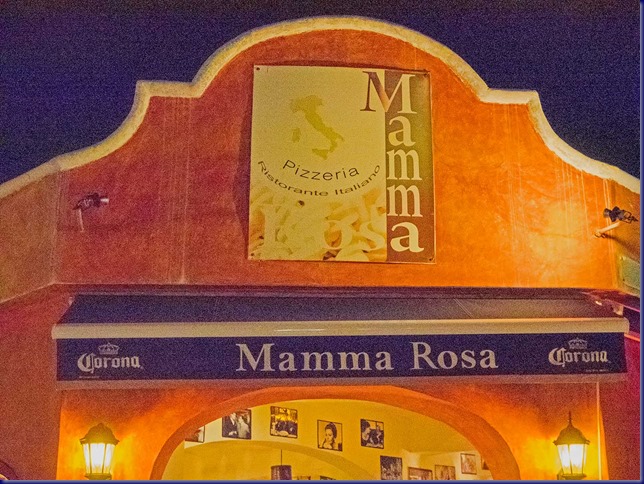 The whale shark action continued while we were there and we were very happy. I was trying my best to capture great images. On our last day on the water, Andy Murch was on our boat and he asked me if I had gotten everything that I wanted. He asked about a silhouette from below but that was not going to happen. I was wearing a 3mm full wetsuit and weights are not allowed with the whale sharks. I was not going to get below one by free diving down. There were people like Andy that could do it but it wasn't to be for me.
Another shot that I didn't get was an over-under (part in the water and part out). I don't think that I thought about it enough to try it and since I was using a small 4" dome, it was going to be difficult while swimming. Andy took a beautiful over-under. You can find it on Big Fish Expeditions Facebook page.
Then he asked me about a selfie. Well, I have to be honest – at 67 years old, I have never taken a selfie. I thought "why not?" So on one of my encounters, I had a really nice whale shark that I was able to stay with for awhile and I started thinking about a selfie – and then I was doing it.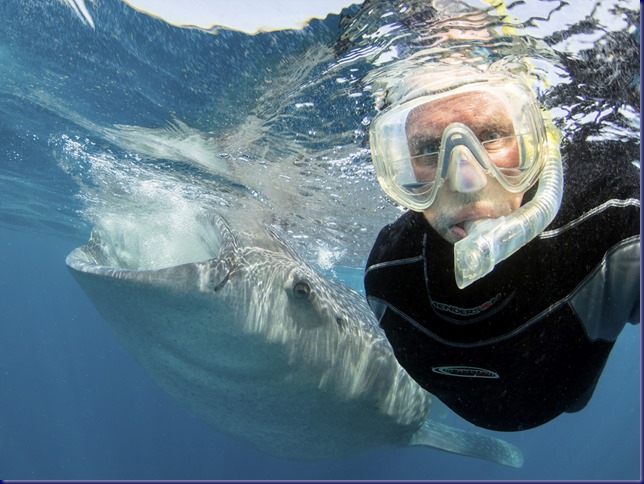 What do you think? I thought that it came out pretty good. I ended up with about a half dozen selfies and that I was pleased with.
Sadly, our four days with the whale sharks ended too quickly. We all admitted that this was one of the best trips ever and that being with a great group made it all the better. I will leave you two more photos.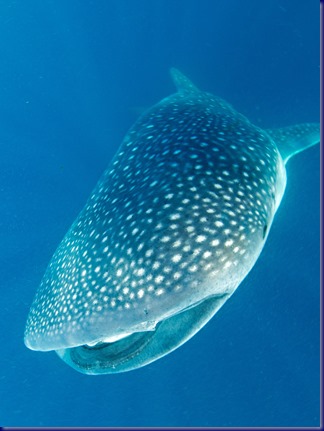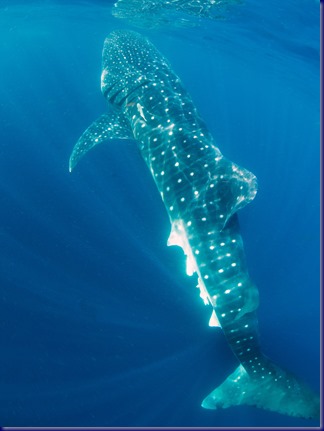 The whale shark on the right is doing something called "bottling" where they come to the surface vertically. There are different schools of thought about what this behavior is. One group thinks that there is a large concentration of bonito (tuna) eggs and whale shark is sucking them in. Andy Murch believes that they could be getting into this position to let out air that has accumulated in the body while feeding. He thinks that the excess air could be affecting their buoyancy. Sounds good to me! Until next time, Adios!!!
© 2014, Herb Segars. All rights reserved.
Copyright © 2014 Herb Segars Photography Blog