30 Aug
Posted on 2015 under
Artificial Reefs - New Jersey
,
Atlantic Ocean
,
Axel Carlson Artificial Reef
,
Backscatter
,
Beneath the Garden State: Exploring Aquatic New Jersey
,
Beth Dalzell
,
Blue Mussels
,
Frilled Anemones
,
Herb Segars
,
Inon
,
Inon Z240
,
Invertebrates
,
Metridium senile
,
Nature Photography
,
Nauticam
,
New Jersey
,
Olympus 12-50mm Lens
,
Olympus 8mm Lens
,
Olympus OM D-EM1
,
People
,
Photography
,
SCUBA Diving
,
Underwater Photography / Scuba Diving
,
Veronica M
,
Veronica Segars
,
Wes Dalzell
|
3 Comments
Well, we finally got out diving again after weekends of not being able to go for one reason or the other. We did have to make it an early day as our dive partners, Beth and Wes Dalzell had another place to be in the early afternoon. We sailed out at 7:00 am to a relatively flat Atlantic Ocean. Since we were going to have an early day, we decided to visit the Veronica M for the first time this season. For those of you who don't know, the Veronica M is a 110' long tugboat on the Axel Carlson Artificial Reef off Bay Head, New Jersey. It was sunk on November 10, 2004 in 76' of water. The site was named the Veronica M artificial reef after my wife, Veronica. When she turned 50, I asked her to pick out a special gift and if I could, I would get it for her. She immediately said, "I want a tugboat sunk on an artificial reef site and named after me." It took me two years but in 2004, it happened. This is a gift that will outlive both of us and we have decided that when we pass, we are going to be cremated and spend the rest of eternity on the Veronica M.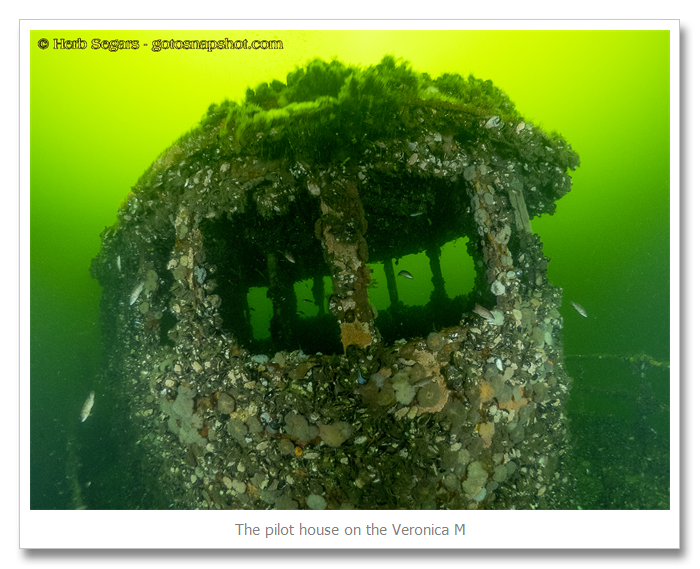 We anchored into the site and suited up to make our dive. The surface water is as it has been all summer – very yellowish in color with limited visibility. About forty feet down the cloudiness disappeared and the visibility improved to about 15'-20'. The bottom temperature was a balmy 61 degrees. Beth and I were both wearing wetsuits and I felt pretty comfortable considering that my wetsuit is pretty big on me. Time to consider a new one. The bottom visibility was not too bad but the cloudy surface water kept light from penetrating very far so the bottom was on the dark side.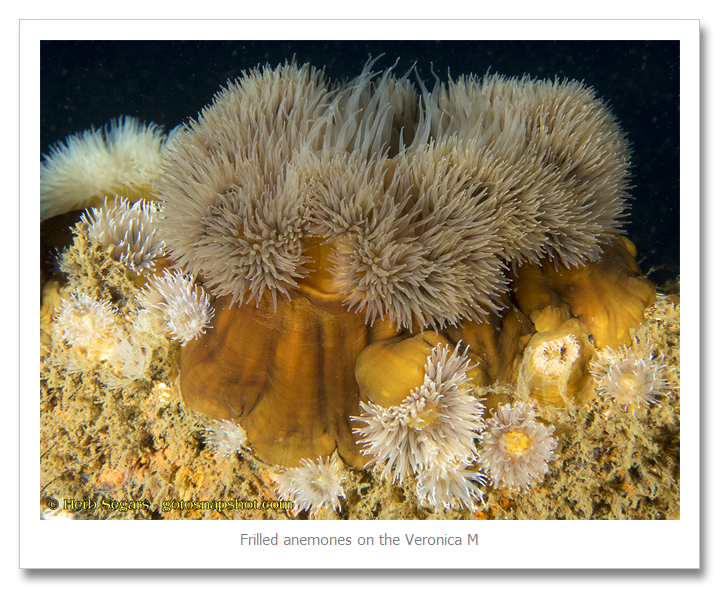 On this dive, I used an Olympus 12-50mm lens and was shooting mostly frilled anemones, Metridium senile, and blue mussels, Mytilus edulis. There were plenty of great subjects on the Veronica M.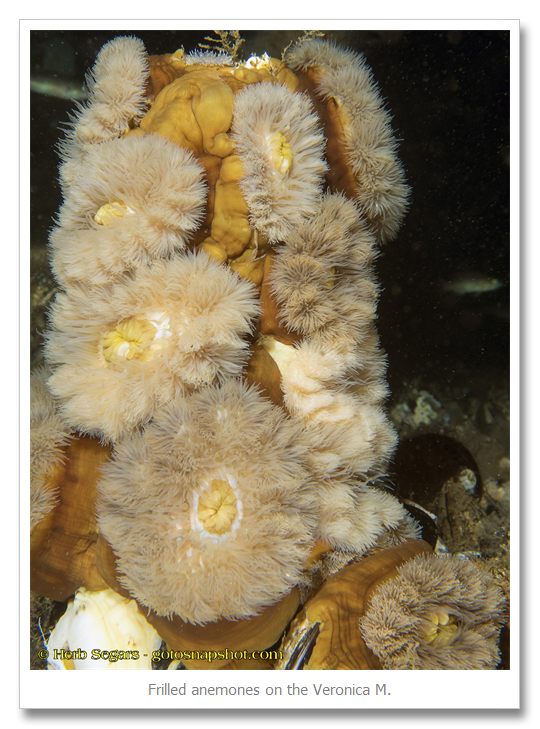 After 45 minutes on the bottom, I began my ascent. I keep hoping that the surface water would clear up so that I can photograph my favorite marine animals – jellyfish and plankters. The ocean was even calmer at the end of my dive than it was at the beginning. I love it on days like today.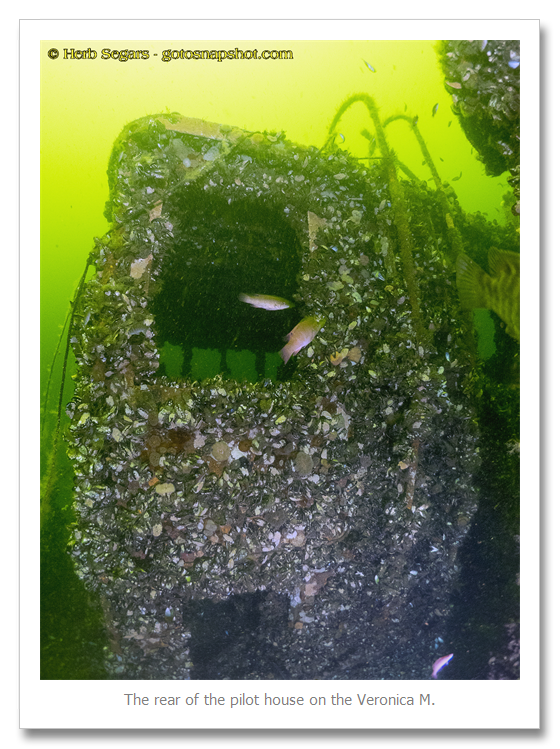 I decided to shoot wide angle on the second dive despite how dark it was at the bottom below the yucky surface water. I love challenges and this would be a challenge. I used an Olympus 8mm fisheye lens and enjoyed playing with different camera and strobe settings as I wandered around the tug.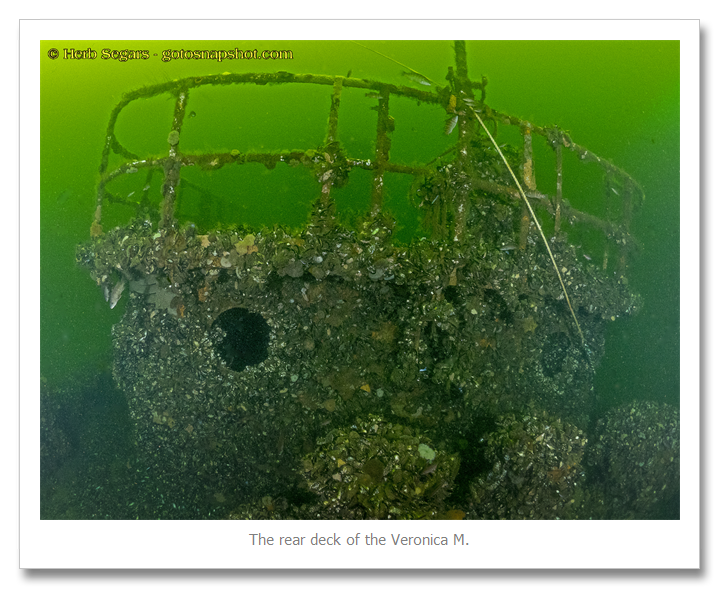 At one point, I turned on my video light and shot video of the tug to show my wife, Veronica, who doesn't dive anymore. I always try to bring some video back for her.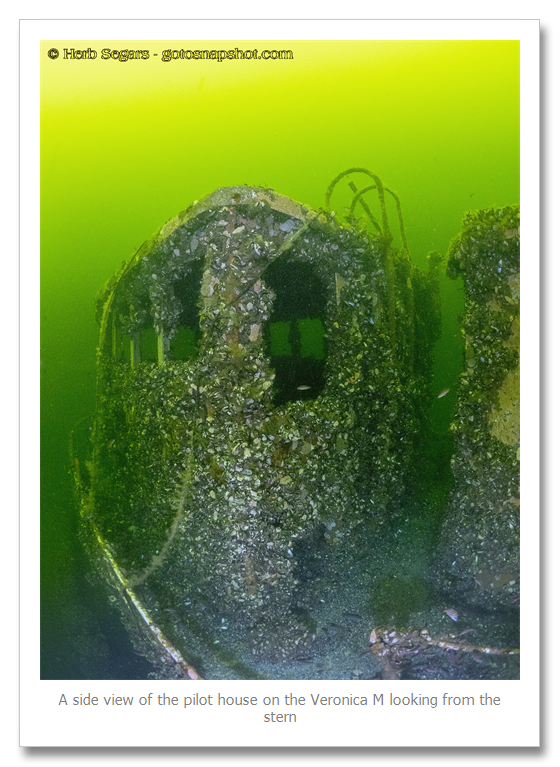 As my time on the bottom diminished, I decided to try one more thing. Since there was a lot of particulate matter in the water which was making it hard to use my underwater flashes, I thought that I would try shooting some photos without a flash and use available light for the exposure. Most of the wide angle photos you have seen so far were shot at an ISO of 1600. The next photo that you will see was shot at an ISO 0f 10,000. The photo was very green because I did not use strobes so I changed it to a black-and-white photo.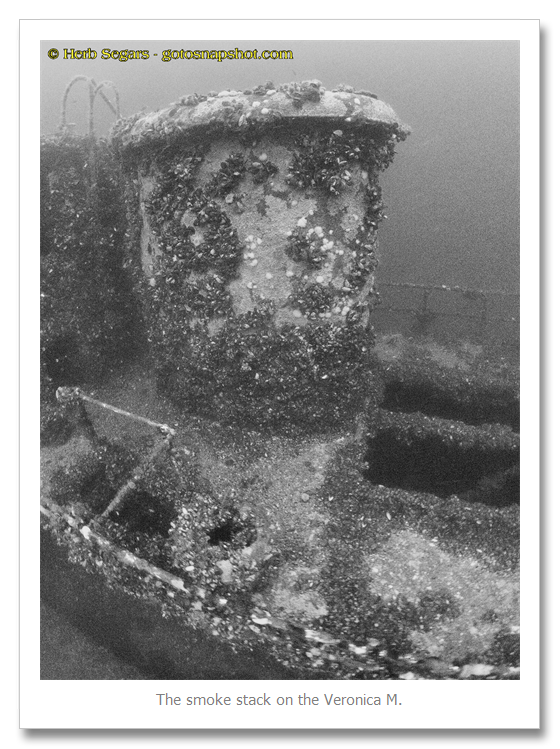 On our first dive, Beth collected a bunch of mussels which we separated between dives. To clean the mussels, we put them in mesh bags and drag them behind the boat. They tumble in the bag and by the time that we reached the inlet, the mussels were exceptionally clean. The early afternoon brought a change in the wind from the northwest to the south and sea conditions were getting a little bumpier. We were all happy as we reached our home dock and thought about what a great day we had on the ocean.
© 2015, Herb Segars. All rights reserved.
Copyright © 2015 Herb Segars Photography Blog