My wife, Veronica, has been going through a tough summer of medical issues. Today, Tom and I went with her to see her neurologist and as soon as we pulled into our yard, we saw a small Bobcat machine parked in the cutout in our driveway. Tom immediately asked "are you driving that?" I wished that I could of said "yes" but since it's not mine, I couldn't. I told him that it belonged to our landscaper and he was using it to remove tree stumps from the trees (3) that fell over during Hurricane Irene.
Before I headed home with Tom, I asked if he would like to have his picture taken in the bobcat. He was all smiles. I guess that I didn't think about how we were going to get Tom into the bobcat before I asked. As it turned out, there was no reason to worry.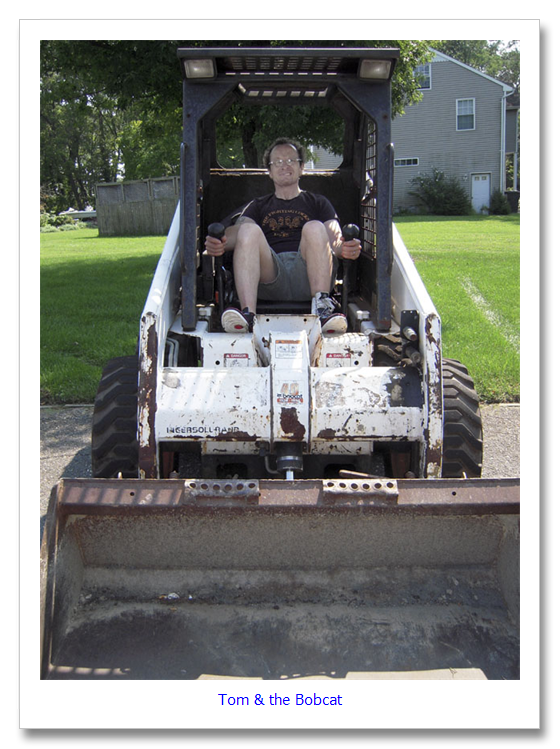 I brought Tom to the front of the machine with his walker and he proceeded to climb over the shovel and into the cab. It's a good thing that there weren't any keys in the bobcat or Tom might have tried to take it for a spin.
As I watched him get in, I wondered if I could do as well as he did.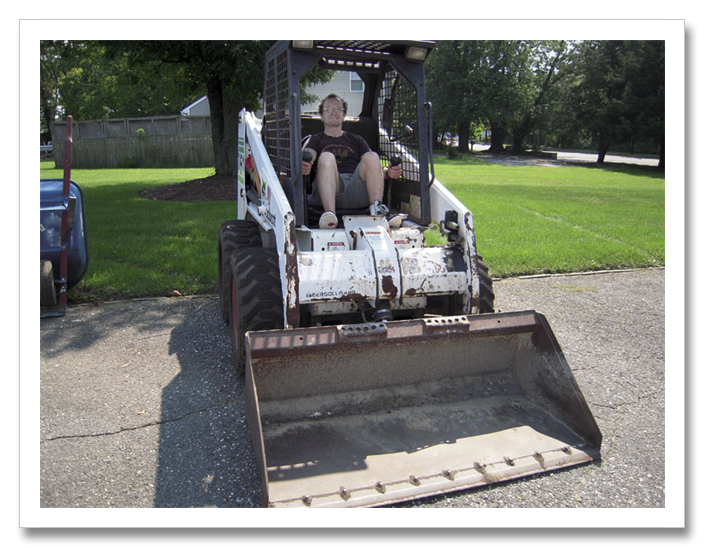 Tom continues to move forward and we are thrilled about it. His progress seems so slow at times but the great part of it is that he continues to move forward. While we were at the house today, I introduced him to the Animal Planet show, "Hillbilly Handfishin" which he thought was absolutely crazy. We decided that his wife, Lynda, would never try it. She probably wouldn't even go to Oklahoma where it is filmed. Tom, Veronica and I would definitely try "noodlin." If you haven't seen the show, it is hilarious. Some of the most unexpected people take part in catching catfish by hand. I also introduced him to a show called "Tanked" about two guys from New York who move to Las Vegas and make custom aquariums. Being fish people, we love the show. We have seen them build aquariums into juke boxes, phone booths, and make them to look like a beer keg or a receptionist's desk. We also saw them build an aquarium for a little boy who has undergone numerous surgeries and is expected to face many more. The aquarium was built as the top bunk in a bunk bed. It was shaped like a pirate ship and it had a bubble in the bottom of the ship so that the young man could lay on his bed and look up into the aquarium. How great is that?
The summer is winding down for us and I have yet to start the motors on our boat or get my body into the water. As I get older, I find that a lot of things get in the way of our lives and we have to deal with them. Veronica started off the summer with surgery on a shattered collarbone and my dive buddy, Beth, had a knee replaced. This is my 30th year of scuba diving in New Jersey but it is not going to be one of the most productive. That's okay because there are many more important things in life like Tom, Lynda, Veronica and Beth.
© 2011, Herb Segars. All rights reserved.
Copyright © 2011 Herb Segars Photography Blog