Our son, Tom, suffered a traumatic brain injury almost five years ago and I have been doing periodic updates on his recovery. One of his biggest supports, Dr. Michael Finkelstein, at Mount Vernon Hospital in Mount Vernon, New York is leaving at the beginning of August for a new position at another facility and he is going to be sorely missed. I took a photo of Tom and Dr. Finkelstein at the hospital on Wednesday as Tom will not be getting hyperbaric treatments for the next three weeks and the next time that Tom will be at the hospital will be Dr. Finkelstein's last day and we hope that we get to see him one more time before he leaves.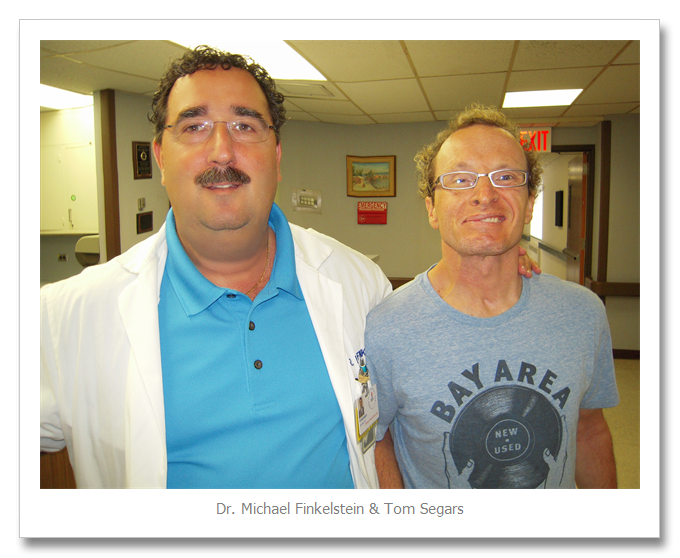 Dr. Finkelstein is a great doctor. He heads up the wound treatment unit at the hospital and everyone there loves him. We have seen him work some real magic on people who will miss him like we will. Our entire family wishes him the best in his new endeavor.
Now onto Tom. We have been taking him for hyperbaric oxygen treatments for about ten months. He gets three two-hour treatments a week. We have seen some amazing improvements since he started. We also found out some very interesting things. We have believed all along that Tom's balance problems arise from the small bones that he broke in his right ear that affect balance. We recently found out that that it's not the case. On a visit to his neurologist, Dr. Gerald Ferencz, the doctor asked Tom to stand up and look straight ahead and try to maintain his balance without holding on or falling. He was able to do it. He then asked Tom to slowly look left and then right and maintain his balance. Tom was able to do that. When he had Tom close his eyes and try to maintain his balance, Tom started swaying and was having great difficulty maintaining balance. Dr. Ferencz said that based on the fact that Tom could hold his balance with his eyes open, that the balance issue was probably caused by a bleed that Tom had in the cerebellum when he fell. The cerebellum is the slowest part of the brain to heal and the fact that he was able to maintain his balance was evidence that the cerebellum is healing.
We have also seen another change that relates to the cerebellum. Tom has ataxia. His whole body shakes all the time – even when he is sleeping. About six weeks ago, Veronica took Tom to the barber shop for a shave. She was looking at him in the barber's chair and something didn't seem right. The barber walked over at the same time and asked Veronica to come over and check Tom because something seemed off. Veronica went over and tapped Tom. Tom opened his eyes and said that he was all right. For the next 35 minutes, Tom did not shake at all. This was the first time since his injury that anyone has seen him not shake. We have seen it a few times since then and it happens more often when he is in the hyperbaric chamber. The ataxia was also a result of the bleed in the cerebellum.
We see more and more of Tom come out every day. He has become much more aware of his surroundings and it is evident in some of the conversations and statements that he makes. Every morning that I pick Veronica and Tom up at the condo to take them to Mount Vernon Hospital, I talk to Tom on Veronica's cell phone just before I arrive. Tom couldn't talk on the cell successfully before the hyperbaric oxygen treatments. Tom has aquatic therapy at CentraState Hospital in Freehold, New Jersey twice a week followed by vestibular therapy. The thought in the treatment is to work on Tom's balance in the water and transfer it to land based balance therapy.
The aquatic therapy is in a pool that has a treadmill on the bottom with two rails to hold onto and two underwater cameras. One looks at Tom's walking from a head on position and the other looks at his feet from the side. Tom can watch what his feet are doing and then make corrections on his own. His therapist, Rick, who is another really special person, told Veronica on Tuesday that Tom had his best therapy session to date. Rick was impressed with how far Tom has come in such a short period of time. He thought that it would have taken Tom much longer to get where he is now.
Tom still has a long way to go but he has come so far. We are truly blessed that we still have Tom and that we have the world's greatest daughter-in-law  Lynda. We have also been blessed with the people that we have met along the way and who have had impact on Tom's recovery. We are also blessed to have so many people that have prayed for Tom and continue to pray. God hears you!
We are hoping that Tom's improvement will open up hyperbaric oxygen treatments for others who have sustained traumatic brain injuries. There are hospitals that are in the same system as Mount Vernon Hospital that have hyperbaric chambers and don't or won't treat people with traumatic brain injuries. The primary reason is cost. Insurance companies will not pay for hyperbaric oxygen treatments because they are still unproven. The government is seeing more soldiers coming back from Afghanistan and Iraq with traumatic brain injuries and are doing studies on the success of hyperbaric oxygen treatments. If the government can get on board with this treatment, it will just be a matter of time before insurance companies start to pay and people who can really benefit from the treatment will get it.
I found it very interesting that JFK Hospital, a leading edge treatment center for traumatic brain injury, is not using their hyperbaric oxygen chamber to treat traumatic brain injuries.
The end of this month marks five years since Tom's injury. Veronica, Lynda and I have really had our baths of fire and we have learned more about traumatic brain injuries than we ever wanted to know. But when Veronica and I get cards from Tom on Mother's Day and Father's Day and we see the love that he and Lynda have for each other, we count our many blessings. We offer thanks to all of you who continue to care about and pray for Tom. We love you all.
© 2010, Herb Segars. All rights reserved.
Copyright © 2010 Herb Segars Photography Blog