Our son, Tom, is recovering from a traumatic brain injury (TBI) that he sustained a little over four years ago. He has continued to improve but the improvements have been agonizingly slow. We are very grateful that he continues to improve and hasn't stopped. After doing a lot of research on other treatments to help him heal, we found articles about hyperbaric oxygen therapy and it's ability to help the brain and other parts of the body to heal at an increased rate. This is my understanding about how hyperbaric oxygen works. During our daily life, we breathe 32% oxygen. In the hyperbaric chamber, the patient breathes 100% oxygen and the chamber is pressurized. The pressure forces the oxygen into the patient's body from every direction. This does a couple of things. First, it forces the bone marrow to release additional adult stem cells into the bloodstream. According to a study by the University of Pennsylvania School of Medicine, a hyperbaric oxygen treatment increases the number of stem cells circulating in a patient's body by eight times. Stem cells have the ability to change their nature to become part of many different organs and tissues. They look for injured areas and differentiate into cells that assist in the healing process. The other thing that happens is that oxygen is forced into damaged tissues in the body that may not be healing due to a lack of oxygenated blood in those tissues. This treatment option looked exciting. We talked to some people at the rehab center where Tom is getting outpatient therapy. Opinions were very mixed. Most were negative or had no experience with hyperbaric oxygen treatment. I heard that the rehab center had tried hyperbaric oxygen treatments on a few patients without any success. I wondered to myself about how the treatments were administered and how many of the treatments that were administered before giving up.
Once we started looking into getting Tom into a hyperbaric chamber, we quickly hit a large hurdle, one that is extremely difficult to overcome – the cost. Medical insurance will not pay for hyperbaric oxygen treatments for traumatic brain injuries. It is not an accepted treatment yet. The cost for a single chamber treatment can be anywhere from $1800 to $3000 and it is not uncommon for a traumatic brain injury course of treatment to be eighty chamber treatments (called rides). We certainly could not afford to pay that kind of money.
As luck would have it, we were having dinner with a great friend, Mike Emmerman, who is very prominent in the SCUBA diving community. We asked if he knew anyone who might get Tom into a chamber. He said that he knew a man named Glen Butler who ran a hyperbaric chamber in Mount Vernon, New York. Mike contacted Glen who contacted Tom's wife, Lynda, and asked for medical data on Tom. It took a little time to get things in place but Tom was admitted into the hyperbaric oxygen program as a research patient. He was initially scheduled for twenty rides in the chamber. Soon after we started, we met a neurologist at the hospital named Dr. Nouri. He explained to us that five years ago, the belief was that if the brain was damaged, it could not heal. He told us that they do not believe that now. He also explained to us about the hyperbaric oxygen entering the body from all directions and how it forces its way into damaged tissues.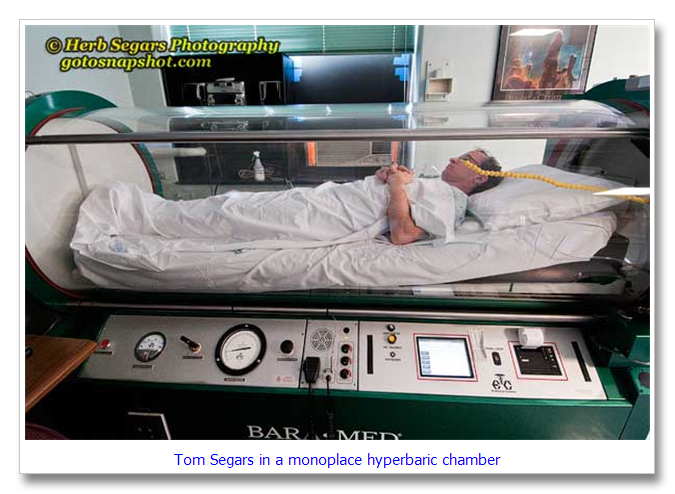 We were able to get Tom into these treatments because the hyperbaric chamber unit at Mount Vernon Hospital gave us a very reduced rate. Now, three times a week, Veronica and I drive Tom from his home in Morganville, New Jersey to Mount Vernon, New York for treatment. On a good day, it is about an hour and fifteen minute ride. On a bad day, it might take more than two hours.
As of today, Tom has had twenty-nine chamber rides. He is currently scheduled to have forty and we are hopeful that more will follow. The big question is has anything happened? The big answer is YES!!! I'll start with a moment that really opened up my eyes. For the last four years, whenever I would see Tom staring out a window, I would ask him, "what are you thinking about?" I really wanted to know that answer to that question. The answer that I got each and every time was the same answer that my wife got when she asked Tom the question. "Nothing. My mind is a blank." About four weeks ago after Tom had had about fourteen or fifteen chamber treatments, I was driving Tom to my business after I picked him up from therapy. He was staring out the window and I asked him what he was thinking. Expecting the usual answer, I was stunned when he said, "I am thinking about what I am going to do for the rest of the day." I stammered out another question, "do you ever think about playing golf and body boarding?" Tom thought a minute and answered "Dad, I think about them all the time." I said that whenever I used to ask the question about what he was thinking he would always tell me that his mind was a blank. He told me that it was that way. He tells me that it is not that way anymore. He still has times when his mind is a blank but they happen much less frequently.
Veronica, Lynda and I have all noticed that Tom is more aware. He is starting to initiate more. He is starting to answer questions in sentences instead of just "yes" and "no". One of Tom's most serious problems is his short term memory. He has great long term memory but terrible short term memory. We are seeing changes in that as well. He is starting to hold onto more short term memories. Many of the changes that we have seen in Tom since he started treatment have been things that might not mean much to a normal person but it is huge for Tom.
Tom had a stroke that affected the right side of his face and the left side of his body. At a recent checkup by his neurologist, it was noted that Tom's smile has gotten a little bit bigger and his right eye has gone a little further to the right of midline and that both eyes are tracking together. Dr. Michael Finkelstein, a neurologist, at Mount Vernon Hospital told me that it is probably his cranial nerves healing. Tom had damage to both his 6th and 7th cranial nerve in his initial injury.
A typical hyperbaric treatment for Tom is two hours in the chamber. He is taken to two atmospheres of pressure. He gets three air breaks during the two hours to make sure that he does not develop oxygen toxicity. Tom has to clear his ears as the pressure is increased in the chamber and he has not had any problems doing so. The people in the chamber treatment group known as the Life Support Technologies Group are incredible. The chamber operators are Manny, Mark and James. They make our visits there a pleasure. Pat manages the department and she is a terrific woman. Gerry is in charge of research and we love seeing him. Glen Butler, who runs the unit, is extremely knowledgeable and is on the top of our list of great people.
This is all great for Tom but what breaks our hearts is that other traumatic brain injured patients do not have access to hyperbaric oxygen. Mount Vernon Hospital's Hyperbaric Oxygen Department is looking form traumatic brain injured patients for treatment. They offer treatments for $240.00 per chamber treatment. They are trying to get hyperbaric oxygen recognized as an accepted treatment program so that insurance companies will pay. You can click on the link above or you can call them at (914) 361-6535.
© 2009 – 2010, Herb Segars. All rights reserved.
Copyright © 2009 Herb Segars Photography Blog