With the introduction of my book, I find myself in a situation where if I want to sell copies of the book, I need to be able to accept credit cards for payment. I looked at a lot of companies that offer this service and found that they were way to expensive for my situation. I hope that my book sells extremely well but I know that at one point, I will not have a constant need to accept credit cards.
I found a couple of companies that offered services that I could afford. One was Intuit and its GoPayment service. It allows you to take credit card payments (Amex, Discover, MasterCard and Visa) through your iPhone, iPad or Android phone. When you sign up (which is free), they send you a credit card reader that plugs into the microphone plug on your phone or tablet. There is no monthly fee and the charges to accept cards are 2.7% of the charge for swiped charges and 3.7% for charges entered manually. There is a higher charge for Amex charges. Before you decide which service to choose, make sure that your phone or tablet is on their list of approved devices.
The second service is called Square (Squareup). It is very similar to GoPayment. The fee structure is a little different in that Square charges 2.75% of the charge for a swiped transaction and 3.5% + $.15 for a manually entered transaction with no additional charge for American Express. Sign up for either service is easy with Square's requiring less information to get started.
As I do with many things, I spent a lot of time comparing the two services. I decided in the end to go with Square. I was really on the fence right until I chose and I am not sure what pushed me in Square's direction.
I had the opportunity to enter some charges manually before my reader arrived so I managed to get a little real life experience with the service. First, Square sends you a link to a site to download their app into your phone or tablet. I loaded the app into my Droid X phone, entered in my user name and password and was taken to their opening screen.
The initial information entry is the same whether it is a manual entry or a swiped transaction: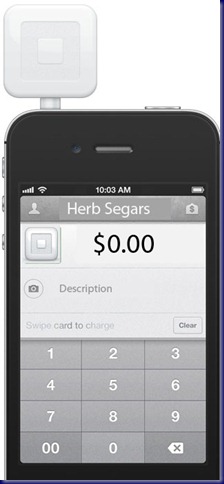 The first thing to do is to enter a photo of what you are selling. You tap on the icon with the camera in it above the keyboard and navigate to the location of your photo. This is optional and you don't have to use anything. I use a photo of the cover of my book: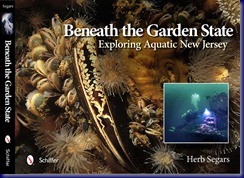 Next enter a description of the item that you are selling. Tap on the word "Description" above the keypad and the keyboard will appear to enter your description. Mine is "Book and Shipping."
After the description is entered, tap on the "$0.00" above the description and type in the price. With shipping included, the cost of one of my signed books is $34.99.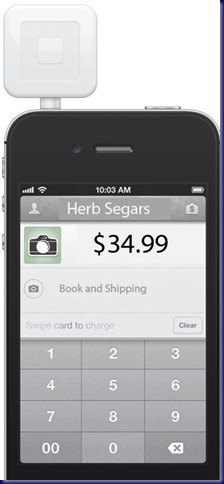 Now it is time to swipe the card. I have swiped quite a few by now and it is really simple. It only takes a few seconds and you will see a checkmark with "Approved" on your screen.
You will then be taken to a screen where the customer will sign their name on your phone.
If you are keying in information, tap on the little dollar sign in the upper right hand corner of the screen. You will be given a choice to enter the credit card info or to enter a cash amount.
In the credit card entry, you will enter the customer's credit card number, expiration date, security number and their zip code. If you are going to ship anything to your customer, make sure that you have their shipping information. Once you charge the card, you will not get any of their personal information in your charge statements. If they are taking their merchandise with them, that is not an issue. I have my customer's fill out a simple name and address form with their phone number, email address and the last four digits of their credit card number. When I receive a notice of the charge, I am only told what card was used, the amount charged and last four numbers of the credit card.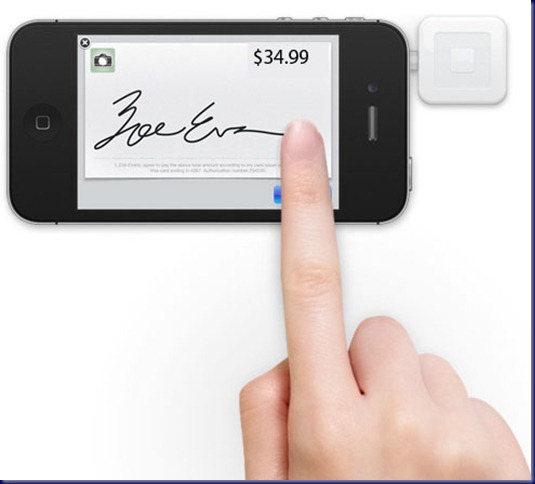 Whether the credit card is swiped or the information is entered manually, you will be presented with a signature field. If the customer is in your presence, they simply sign their names using their fingernail.
If the order comes in from the Internet, I write "Internet Order" in the signature field and click "authorize." The last procedure is to send the customer a receipt by "text messaging", "email" or to skip the receipt.
That's all there is to it. You will receive an email from Square for every charge and the money will appear in your bank account in a day or so.
My only problem with Square is that I have to enter the description of my book manually with each order. I would love to be able to pick it from a menu and have it entered automatically. It would speed the process up greatly and when there a line of people waiting to be helped, any way to shorten the processing time would be wonderful. If you have an iPad, you can save a description of what you are selling and pick it from a list. I really like that but can't justify buying an iPad just for that convenience.
All in all, it was a great way for me to accept credit cards. I have no reservations recommending Square. I have nothing bad to say about GoPayment since I did not have the opportunity to use it. If you research both services, you will find some very interesting opinions both for an against each service.
I also take PayPal on my site but I find that their fees are about the same as a manually entered transaction with Square.
© 2012, Herb Segars. All rights reserved.
Copyright © 2012 Herb Segars Photography Blog