4 May
Posted on 2014 under
Beth Dalzell
,
Herb Segars
,
Inon
,
Inon Z240
,
Nature Photography
,
Nauticam
,
New Jersey
,
Olympus 12-50mm Lens
,
Olympus OM D-EM1
,
Olympus OM-D EM-5
,
People
,
Photography
,
Rose Baptiste
,
Tom Segars
,
Underwater Photography / Scuba Diving
|
2 Comments
I have been using digital cameras underwater for a long time. I started with a Nikon D70, then came a Nikon D100, D200 and finally a Nikon D300. I was very pleased with each and every camera. Along with the cameras came different underwater housings. First was an Ikelite, and then an Aquatica and finally a Subal housing. As with the cameras, I was very pleased with the housings. When it came to underwater flashes, I was Ikelite all the way. I have owned a couple of Ikelite DS50's, DS200's and currently own three Ikelite DS-125's. Like many Nikon D300 owners, I have been waiting for Nikon to upgrade that model. It has been years since the D300 was introduced and the long-awaited successor has still not arrived. I felt that it was time for a change and gave a lot of thought to the direction that I would go in.
If I stayed with Nikon, the two logical directions was to go full frame with the Nikon D800 or stay with the DX format and go with the Nikon D7100. To make my thought process as logical as possible (although there isn't much logic when you are buying underwater photography equipment), I started thinking about the kind of diving that I will be doing. I am 67 and I feel that I would like to take more dive vacations. My primary shooting area is New Jersey so cameras with higher ISO sensitivity would make sense, hence the D800 or D7100. The problem is that the changeover would include a new housing and new camera bodies for the D7100 and would have the additional expense of new lenses for the full frame Nikon D800.
The thought of travel made me think of the pain that it is to travel with my equipment and the fact that airlines are increasing baggage charges all the time. That's when I started looking at another option and as it turns out, it is the option that I decided on. I started looking a micro four-thirds mirrorless cameras. Initially, I was intrigued with the Olympus OM D-EM5 which was getting rave reviews from the u/w photography community. Before I decided on the camera, Olympus introduced the OM D-EM1 which really got my attention. After more research than anyone should put into anything, I decided to purchase the Olympus OM D-EM1, a Nauticam housing and two new strobes. I almost feel like a traitor for the first time in my u/w journey, they are not Ikelites. I acquired two Inon Z240 strobes. But I will talk about the equipment as it comes in. Right now, the housing is on back order so I can't do much comparison. It is okay because I probably won't start New Jersey diving until sometime in June and I don't have a trip planned until the end of July when we are going to swim with Whale Sharks in Mexico.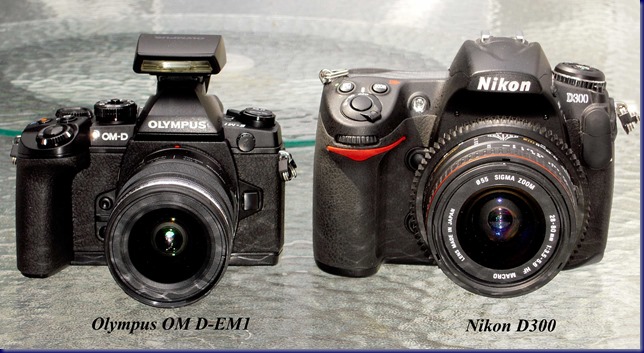 Here is a photo of the Olympus next to my Nikon. There is certainly a difference in size between them. The Olympus has a flash mounted on top and is still considerably smaller.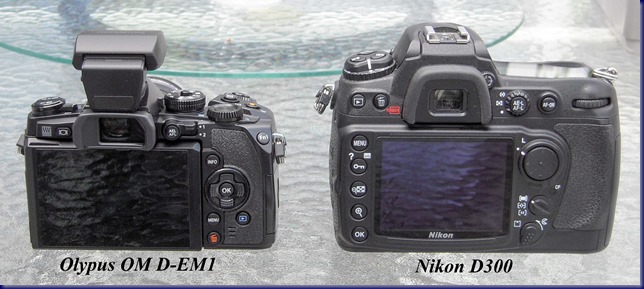 The size difference is also evident in a back view. Another obvious difference in the back view is the larger LCD screen on the smaller Olympus.
I started off by weighing both camera bodies with lenses that would use in similar situations underwater. The Olympus has the Olympus 12-50mm lens and the Nikon has the Sigma 28-80mm lens. The Olympus weighed in at just a little over 1 3/4 pounds and the Nikon came in at close to 3 pounds. That is a savings of 1 1/4 pounds which doesn't seem like much but as I add housings, ports and strobes the difference should drop dramatically.
My first impressions of the OM D-EM1 are terrific. It has so many features that it is going to take some time to learn them all. One of the really impressive features is the Electronic View Finder. As I make changes to things like exposure compensation, I can see what happens in the viewfinder – a feature that is not available on my Nikon D300. For shooting on land, I like the face detection capabilities. It assures me that the face of the person that I am photographing will be in focus. I was also impressed with the sharpness of the photos.
Here is an uncropped photo that I took of my son, Tom at the computer at our home. There was no additional processing done to this image. It is as it came out of the camera. It was shot on Aperture priority, f9, 1/60 second and ISO 800, no flash, with the Olympus 12-50mm lens at 12mm: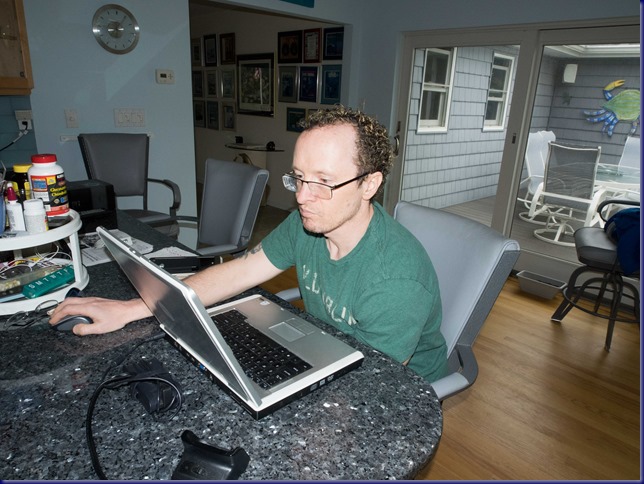 And here is a 100% crop of his face: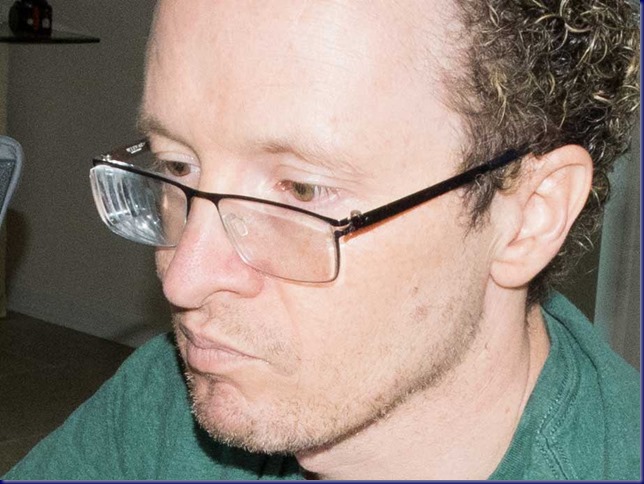 Here is another example of a photo that I took of my dive buddy, Beth Dalzell's mom, Rose Baptiste. It was taken in aperture priority at f9, 1/100 second, ISO 1250 and the camera flash: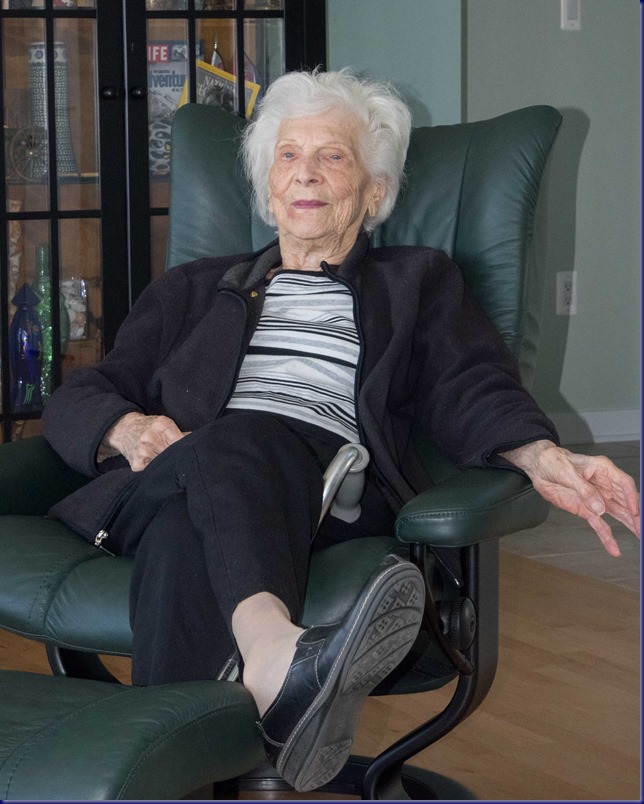 Here is a 100% crop of her face. There was no post processing down to either photo: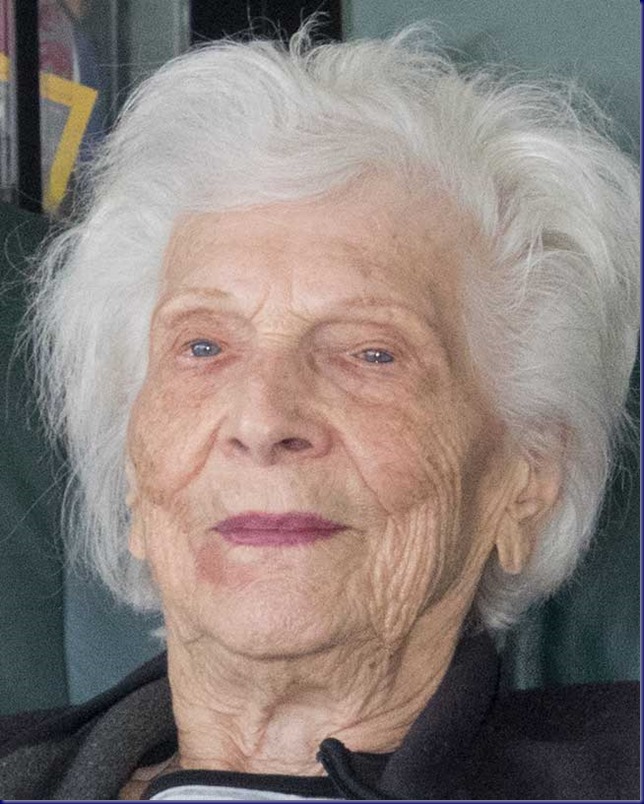 Since I shot this photo at ISO1250, I wanted to see what some minor noise removal would do to the 100% crop. Here is the result:
That is only correction to any of the photos. I think that it really makes a difference.
Some of the other features that I like about the camera is it's HDR in-camera capability and the ability to map almost every button the camera to suit specific needs. It has four MySet settings that allow you to make presets for different kinds of shooting. But this is not going to be a review on the camera, it is going to be about a new journey in underwater photography. If you want to read a review on the camera for topside use, click here. Olympus also introduced a less expensive version of the OM D-EM1, named the OM D-EM10.
Stay tuned for part 2.
© 2014, Herb Segars. All rights reserved.
Copyright © 2014 Herb Segars Photography Blog