5 Aug
Posted on 2010 under
Adobe Lightroom
,
Adobe Photoshop CS5
,
Artificial Reefs - New Jersey
,
Cayman Brac
,
Fish
,
Magic Filter
,
MV Captain Keith Tibbetts
,
Nature Photography
,
Photography
,
Queen Triggerfish
,
Russian Destroyer 356
,
Sailfin Blenny
,
Scrawled Filefish
,
Software
,
Underwater Photography / Scuba Diving
,
Yellowhead Jawfish
|
No Comment
Sometime during the night, the Cayman Aggressor IV made its way from the northwestern side of Little Cayman to the western side of Cayman Brac and moored at the Russian Destroyer 356 MV Captain Keith Tibbetts. It was built in 1984 as a Russian missile frigate, destroyer 356 was assigned to the Caribbean as part of the Soviet Union's Atlantic Fleet. It operated out of Cuba for years, before being retired. In the spring of 1998, the aging warship was purchased by the Cayman Islands Government and then towed from Cuba to Cayman Brac to be sunk as an artificial reef.
This project was spearheaded by the Honorable Thomas Jefferson, Minister of Tourism for the Cayman Islands. Working closely with the Watersports Association and the Sister Islands Tourism Association, the warship was cleaned and carefully sunk in a location where it could be enjoyed by scuba divers and snorkelers alike. The shipwreck was renamed the MV Captain Keith Tibbetts, in honor of one of the Brac's most beloved pioneers. Environmentalist Jean-Michel Cousteau filmed the actual sinking and subsequently produced a television documentary titled Destroyer for Peace.
The plan was for us to do two dives on the Russian Destroyer in the morning and go back to Little Cayman for two afternoon dives and a night dive. We would then have one more day of diving on Little Cayman and head back to Grand Cayman tomorrow night after the night dive.
The Russian Destroyer is in reasonably shallow water. I hit a maximum depth on my first dive of 85' and I was at the deepest part of the wreck which is the bow. I decided that due to the shallow depth, this would be another Magic Filter dive. I used a Tokina 10-16 fisheye lens, a Nikon D300 in a Subal housing and no strobes. Robin Reed agreed with me and installed the Magic Filter on her setup.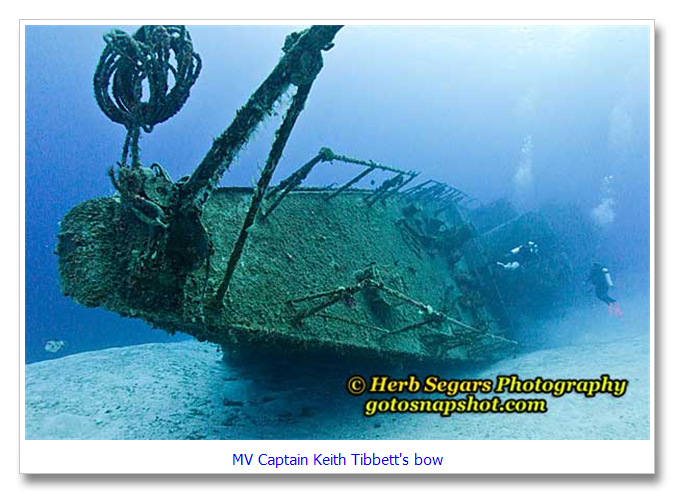 I got to the bottom and my initial impression was how big this artificial reef was. The MV Captain Keith Tibbetts was 330' long. It is broken apart but it is still very impressive. I reached the bottom and went through the procedure to do a custom white balance before starting to shoot. I could not make it happen. This was the same problem that I had earlier in the week. I decided to go ahead and shoot and correct the white balance issue in Photoshop. I will explain how I did this in a future blog. I headed to the bow and started there. I slowly worked my way back to the stern.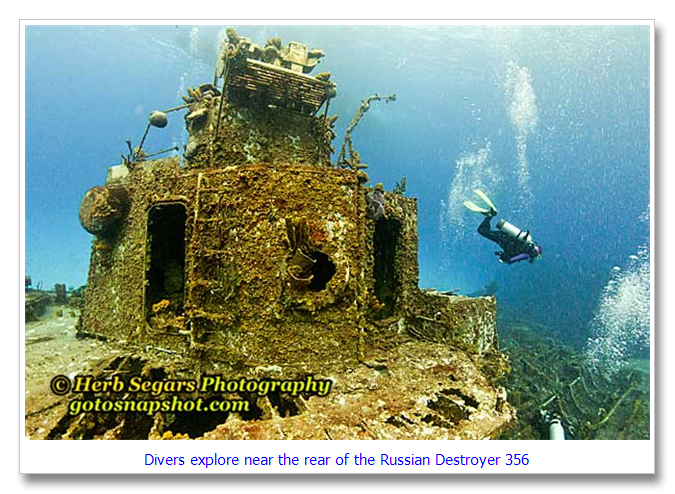 There are two important considerations when using a Magic Filter. First is to make sure that the sun is shining on your subject and that you are not on the shady side of the subject. The Magic Filter can put color into your photograph but cannot put light into shaded areas. The second consideration is getting a proper exposure. I wanted to get an aperture that would give good depth of field and a shutter speed that was not too slow. I know that with the Tokina 10-17 lens, that I should keep my shutter speed faster than 1/15th of a second although I knew that I could get a successful shot with a slower speed. I chose a lens opening of f8 and a shutter speed of 1/20th of a second. To use these settings, I used an ISO of 640. An acceptable ISO setting for the Nikon D300.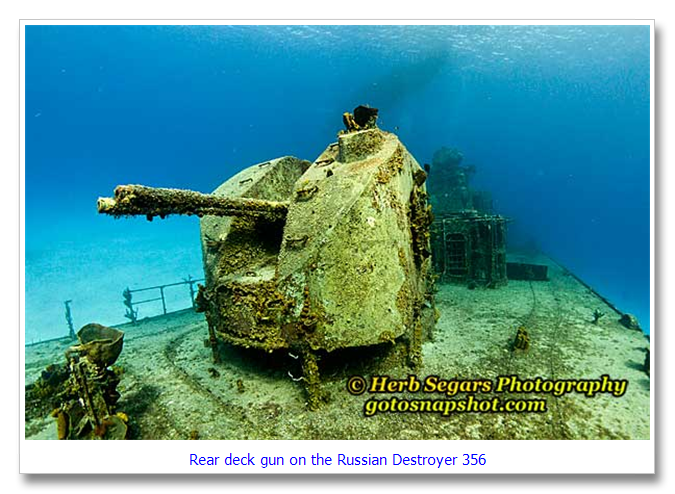 All of the divers had a great time on the MV Captain Keith Tibbetts. Some of the crew from the boat took divers on tours of the inside of the ship. There were areas that were very open and those that went inside really enjoyed it. We made two dives here and I was very pleased with the visibility and with the results of my photography.
At noontime, we sailed back to Little Cayman and moored at dive site named Bus Stop. We would make two afternoon dives and one night dive at this site. Captain Allan told us that we would hopefully find sailfin blennies in the shallows beneath the boat. Warren, Robin and I started our first afternoon dive along the wall. Robin and I both were using our Sigma 28-80 lenses. As we swam along, I found a scrawled filefish nibbling on something on a mooring line. I moved in and shot a number of photos of this beautiful fish.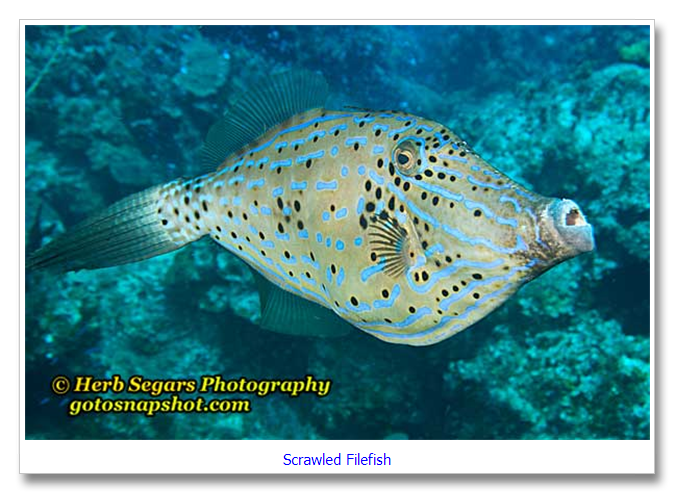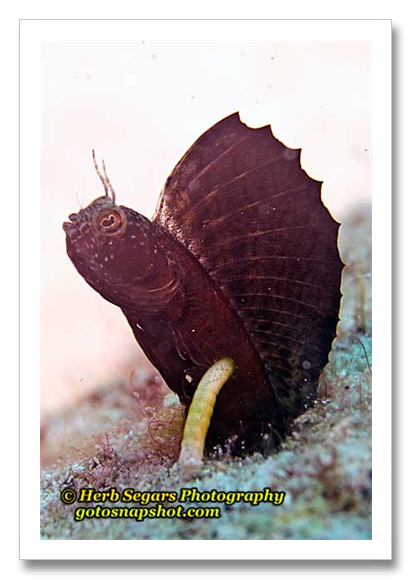 After a brief trip along the wall, we swam into the shallows and looked for the sailfin blenny. None of us had any luck finding one but fortunately, we ran into Captain Allan who found one very quickly.
Even with my Sigma 28-80 lens, it was difficult to get close enough to this male sailfin blenny.
What you see here is a crop of the photo that I took. What was even harder was to get a photo of the blenny with his dorsal fin expanded.
I found that if I put the finger of my left hand on the edge of the rock that the blenny was in, it would come out of the hole and display its dorsal fin. I am not sure if it was showing me how beautiful it was or if it was letting me know that it would beat the crap out of me if I didn't leave.
There were a number of photographers trying to get pictures of the blenny. Captain Allan found a few more blennies so we all had an opportunity. Robin, PJ (Pat Jordan), Monica and Trent all gave it their best shots. I think that some of the other passengers also shot but I don't recall seeing who did.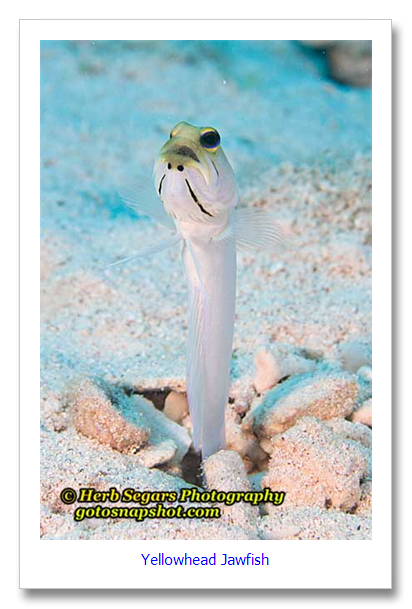 Before we went in for the second dive of the afternoon, Robin asked Lauren if she could show us the sailfin blennies on our next dive. Lauren was happy to help but before we went in, Lowell came up from his dive and said that there was a yellowhead jawfish with eggs in its mouth.
All our priorities changed fast. We still wanted to photograph the sailfin blennies but the jawfish would be a special treat. As it turned out, Lauren showed me the jawfish but I didn't think that I got any photos with the eggs. As I was writing this blog, I zoomed in on the head of the jawfish and it did have eggs in its mouth but it doesn't show well in the photo.
The jawfish was also very shy. It tolerated one diver but when another came by, it quickly retreated into its hole and stayed there for quite awhile.
Yellowhead jawfish are difficult to photograph under the best conditions and especially so with a short telephoto lens like the Sigma 28-8-.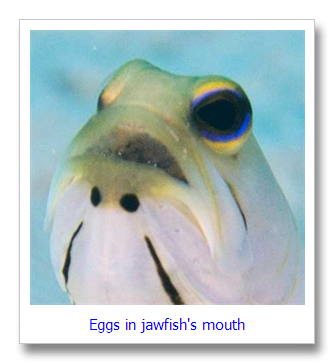 One of the things that I did learn about the yellowhead jawfish was that to tell which ones have eggs, look for the black lines on the underside of its head.
The photo at left is an enlargement of the head area of the photo above. I can see the eggs on my screen. You may not be able to tell that they are there but trust me, they are.
The photos that I see of jawfish with eggs usually shows such a large amount of them that they almost seem to be coming out of the fishes' mouth.
To really do this photo justice, I would have needed a much longer lens or close-up diopters or both.
I had another treat at the end of my afternoon dive. I found a queen triggerfish in its intermediate phase. This was a first for me. It let me take about a half dozen shots and then dove into a hole in the coral head and I did not see it again.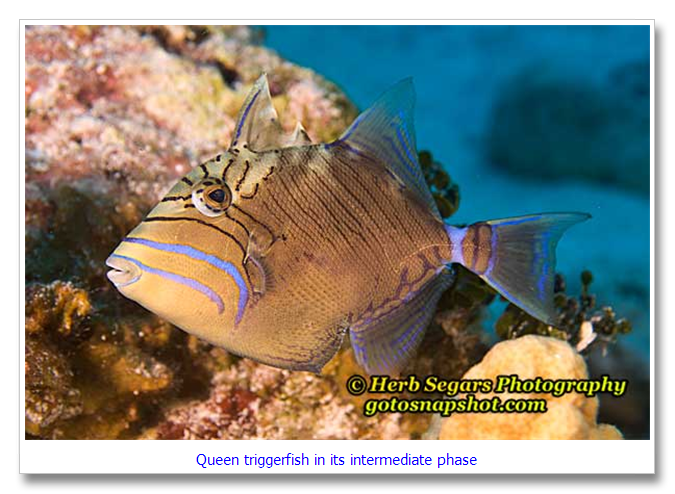 The night dive was anticlimactic after our afternoon dives. I did get a couple of shots of a nurse shark and of a Caribbean lobster out and about. I found a grouper sleeping in a gorgonian and a redband parrotfish asleep on the ground.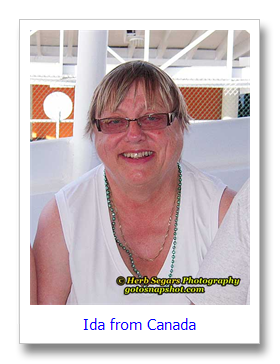 Now for my passengers of the day. I realized that I needed to feature more than two passengers per day or I will be done with my blogs and not include everyone. So today, I am going to feature four people – PJ (Patricia Jordan), Ida and Jaye and Gerry Niel.
On the left is Ida from Canada. She is some lady. She is a three time cancer survivor and completed her 700th dive while aboard the Cayman Aggressor IV.
She was a lot of fun to be with and she looked very comfortable in the water. I admire someone who has gone through what she has and still had a great attitude.
She and Veronica talked a lot during the trip and Veronica enjoyed her company.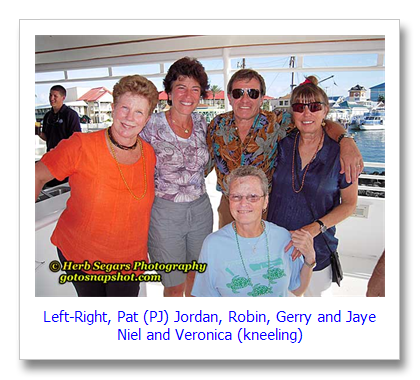 Pat Jordan (PJ) is from New Jersey and we have had to good fortune to travel with PJ before.
She is an accomplished underwater photographer. She now shoots with a Nikon D2x in a Subal housing with Inon strobes. You may have seen some of PJ's work in Alert Diver. She has also won and placed well in photo contests. She probably travels more than anyone that we know. You can check out  PJ's work on her website here.
Jaye and Gerry Niel are originally from New Jersey. We dove together when they lived here. They now live in Charlotte, NC and we see them at the Beneath the Sea dive show each year and we try to get together with them on our dive vacations.
Gerry is also an aspiring underwater photographer. He shoots with a Nikon D90 in an Aquatica housing. This was his first trip with the housing and he was feeling his way with it. He had some really great photos of an octopus at night. He had one of the octopus swimming in the water column with a black background that was fabulous.
If you would like to see more photos of any of the artificial reefs or marine life that I talk about in this blog, please go to my Photo Gallery and either go to the category of what you are looking for or use the search box to find the photos. Every photo that I took on this trip has a Cayman Aggressor IV tag associated with it so you can use Cayman or Cayman Aggressor in your search to find the photos.
© 2010, Herb Segars. All rights reserved.
Copyright © 2010 Herb Segars Photography Blog