It's been awhile since I wrote about Tom's progress so here is the latest update. Tom continues to move forward and we are all thankful for that. He talks more and is very aware of his surroundings. This may not sound like a big deal but for a person recovering from a traumatic brain injury, it is. Ronnie and I often gets phone calls from Tom which is a real pleasure for us. We can easily remember the days not so long ago when this was not possible.
Here are some of the cool things that Tom is doing. He has learned to play chess and he loves the game. He plays it on the computer and if there is no one available to play, he plays against himself. Lynda's dad, Paul, loves chess and he and Tom often play. Paul told me that it is getting harder and harder to beat Tom. Tom reads books like crazy; easily out reading Ronnie and I about 3 or 4 books to our one. He enjoys playing scrabble and backgammon and has some great word games on his computer. He is constantly active reading, playing games, or watching movies
One of the biggest changes with Tom has been the addition of a new outside walker. Tom has been using a traditional walker with 5" front wheels and a set of skids on the back legs. The problem with this walker outside is that it would catch in every crack in the sidewalk and every imperfection in the road. Tom spent all his time fighting the walker and could not concentrate on walking. Lynda and I looked for a long time to find one that would work. Tom has tried four-wheel walkers from time-to-time and he was not ready to use one. One of the big issues are that on some four-wheel walkers, all the wheels swivel and on others, the front wheels swivel. This is a problem for Tom because of the way that he walks. When he fell, he had a stroke which affected the left side of his body so when he walks with a four-wheel walker with wheels that swivel, the walker turns left or right with each step.
After some looking, we found a walker that we thought would work. It has four wheels but the back wheels don't swivel and the front wheels can be pinned so that they don't swivel or can be unpinned so that they do.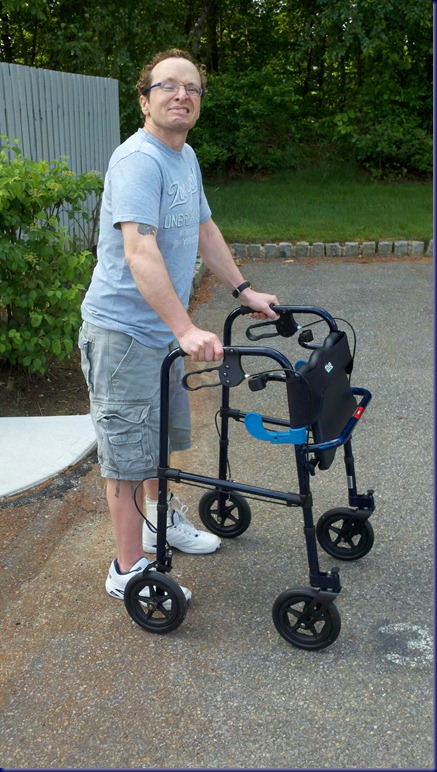 Some of the other aspects of this walker are also great. It has a fold up seat so that if Tom gets tired, he can fold the seat down and take a rest.
It also has hand brakes that Tom can use to slow himself down when going down inclines. The brakes can also be locked by pushing the brake handles down.
The walker is a Drive Medical Deluxe Clever Lite Rollator Walker with 8" casters. We purchased it from Amazon and it turned out to be great for Tom. He absolutely loves it. He doesn't have to fight every crack and bump when he is using it. The 8" wheels are big enough that they just smoothly go over the cracks in the sidewalk and other ground imperfections.
The downside for right now is that Tom has to lift the walker to turn since the front wheels are pegged so that they don't swivel.
This has been a huge step forward for Tom. The next step will be unpinning the front wheels so that they can swivel and he turn more easily.
Tom still uses a traditional walker in the house as the Rollator is wider and bulkier than the traditional walker. He doesn't have to deal with the same issues indoors that he does outside so the traditional walker works great.
Tom has recently celebrated his 39th birthday. It has been four years since he and Lynda were married and it will soon be seven years since his injury. We are so thankful that Tom continues to move forward and we hope that the day will come when he will have completed his journey.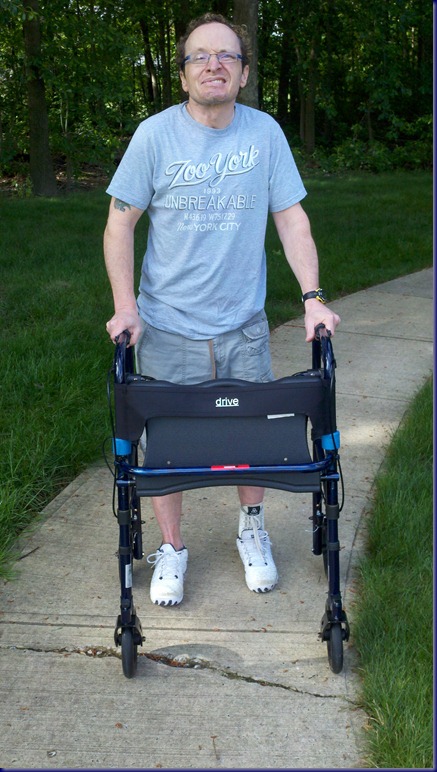 In this photo, you can see the cracks in the sidewalk that used to cause so much frustration for Tom. That is gone with the new walker. Hooray!