1 Jul
Posted on 2012 under
Beth Dalzell
,
Bethlehem
,
Dutch Springs Quarry
,
Herb Segars
,
Nikon D300
,
Pennsylvania
,
People
,
Photography
,
Quarry
,
SCUBA Diving
,
Subal Housing
,
Underwater Photography / Scuba Diving
,
Veronica Segars
,
Wes Dalzell
|
2 Comments
Last year was not a good diving year for my dive buddy, Beth Dalzell, and me. At the start of the dive season my wife, Veronica, fell and shattered her collarbone – requiring surgery and a long recuperation. Beth had her knee replaced just as the season was about to start. The bottom line for the summer was I put the boat in the water and then never started the engines. We are hoping that this year will be better.
Beth felt that since we had not dived in over a year, that we should head out to Dutch Springs Quarry in Bethlehem, Pennsylvania for a warm up dive. Saturday, June 30th was also the day of the New Jersey Skindiving Club's picnic at Dutch Springs. I haven't been to Dutch Springs in 25 years so I figured that I would go. Veronica, Wes and Beth Dalzell, and I loaded up my truck and started our 1-3/4 hour drive at around 8:00 am. The downside of the day was the temperature which was predicted to hit the high 90's. My first impression of Dutch Springs was how much it has changed in 25 years. I was also amazed by the number of divers and all the different equipment that I saw. What I didn't see was a single person with an underwater camera. It reminded me of all the times in the past that I was the only person on the boat with a camera.
Before I go farther, I would like to point out that I like diving off my boat. I thought that my beach diving days were over and I never was enthusiastic about going to a quarry at the beginning of the season. My reasoning isn't so great because a quarry is a controlled environment and it is a great place to check your gear and yourself before taking an ocean plunge. I waffled a lot back and forth before going. The temperatures in the high 90's made it a real chore to gear up and get into the water.
Once in the water, Beth and I cooled off quickly in the 60 degree water. Beth noticed a small leak in her inflator hose and Wes noticed that my buoyancy compensator had a leak on the seam. While diving, Beth saw that there was no air coming from my buoyancy compensator and I think that it was just air between the bladder and the outside of the vest.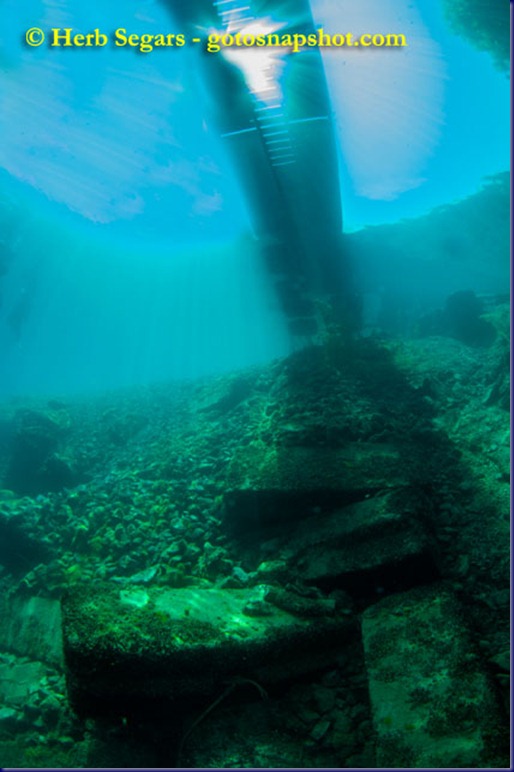 We got ready next to a floating dock (one of many at Dutch Springs) and started our dive. Our plan was to swim along one of the walls of the quarry. We thought that with all the people in the water, we might find better visibility along the wall. It was not going to be a long dive as we were using two of Beth's aluminum 80 tanks. Beth's had 1500 psi and mine had 3000.
We swam along the wall and I saw that there were tiny zebra mussels everywhere. I don't know how they got into the quarry but the benefit of the filter feeders is that the water was pretty clear.
The walls and the bottom were very silty and it was easy to stir things up.
I took my camera and this was my first time using it in a year so it was a good place for me to sort things out. I was using a Tokina 10-17mm lens which is a very wide angle lens. In hind sight, I think that I would have been better with my Sigma 28-80mm macro lens. There were a lot of largemouth bass in the quarry and I was able to get pretty close to them.
Getting close enough for a super wide angle lens was much more difficult but I tried really hard.
The first problem that I noticed with my camera is that my zoom gear was not engaged and I could only shoot on the 10mm end of the lens. I was okay with that since the visibility wasn't too bad as long as I stayed away from the silted up areas.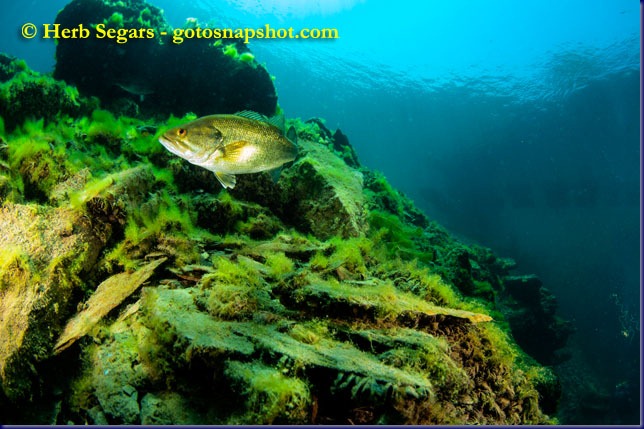 The photo above is a large mouth bass.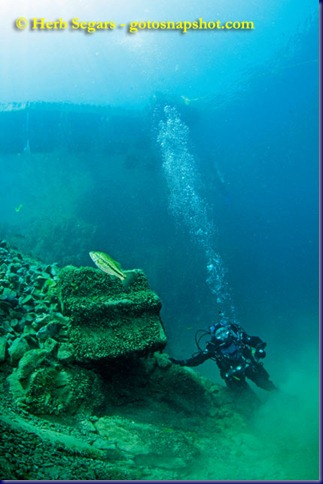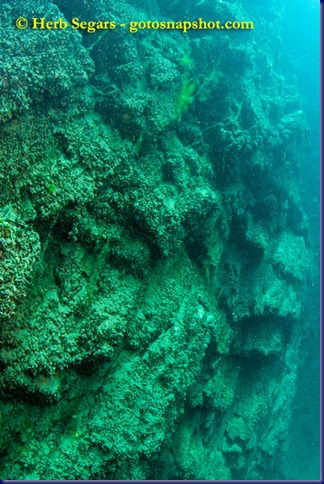 Beth is near the bottom in the left hand photo and you can see how easily the silt stirred up. A largemouth bass swims above her. The walls of the quarry are covered with tiny zebra mussels. There is also a lot of silt on the walls and it is easily stirred up.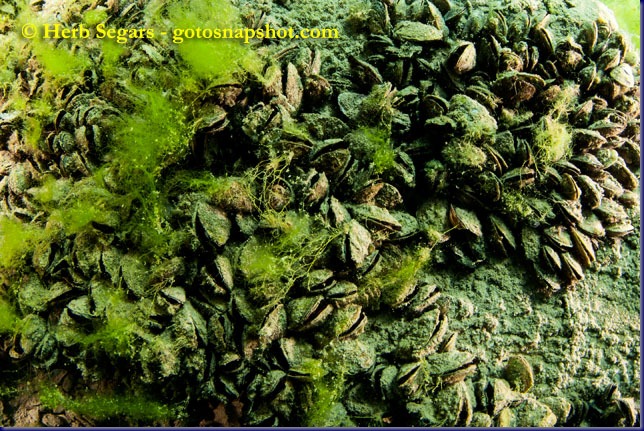 Zebra mussels on the wall of the quarry. Our dive didn't last long. We dove for 25 minutes with a max depth of 40 feet. The walk back to our home base was better than the walk from there to the water. I was much hotter on the way down than I was on the way back.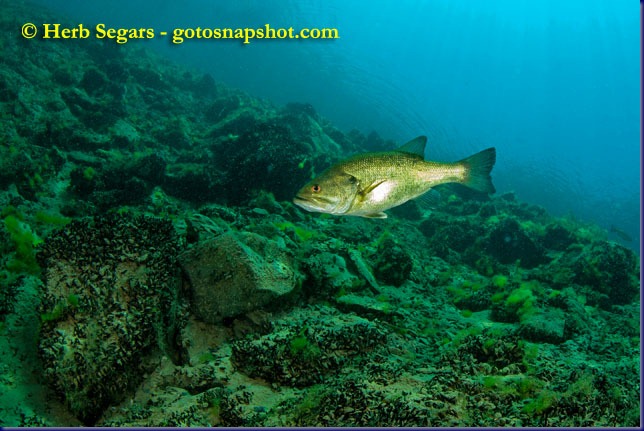 Large mouth bass and tiny zebra mussels at Dutch Springs Quarry.
Better than the dive was the company. Ed Kamper, his wife, Ed's brother and his wife, Clark McFadden, Wes, Beth, Veronica and I had a wonderful time with friends that we don't get to see often enough. It was also interesting to watch all the instructors and students. There were so many young people that it was refreshing. Ed started the grill going and we chowed down on hamburgers, hot dogs, sausage, some terrific peppers and onions and a lot of other delicious food.
Before I knew it, it was time for us to say goodbye. The Kamper families headed to the water park section of the quarry for more water fun. The rest of us climbed into our vehicles for the trip home.
I don't know that I want to do this every year but it was fun and it gave Beth and I a chance to check everything out. I might be more interested if the temperatures were a little more bearable. Dutch Springs truly is a controlled environment to clean out all those old cobwebs before ocean diving where the conditions are less forgiving.