28 Aug
Posted on 2012 under
Barnegat Bay
,
Beth Dalzell
,
Daimondback Terrapin
,
Forbes Sea Star
,
GoPro Hero2 HD
,
Herb Segars
,
Island Beach State Park
,
Kayaking
,
Nature Photography
,
New Jersey
,
People
,
Sea Star
,
Sedge Islands
,
Terrapin
,
Underwater Photography / Scuba Diving
,
Veronica Segars
,
Video
,
Watersports
,
Wes Dalzell
,
Wildlife
|
1 Comment
Veronica and I were on vacation this week and we were so busy that we need time after vacation to relax. On Monday, we hit the high seas so that I could dive with my buddy, Beth Dalzell. Her husband, Wes, was Veronica's partner on the boat while we dove. Those dives on one that we did on Thursday will be the substance of another blog. Today's blog deals with our Wednesday experience. Wes Dalzell, Beth's husband is an avid volunteer of Reclam The Bay. They are a group of extraordinary people who are making a difference on Barnegat Bay in New Jersey. They are raising baby oysters and clams and then reseeding them in the Bay to restore a history of the bay that has slipped away. Now I am not an expert on Reclam The Bay but I am a great advocate of their work. Years ago, I had the opportunity to photograph one of their upwellers (where they raise baby clams and oysters) on Long Beach Island in New Jersey. Not only do they try to increase the numbers of oysters and clams in Barnegat Bay but they do outreach work to schools to teach young people about their goals. If you have never heard of them, I urge you to visit their web site and learn more. If you are a teacher and want to get your students involved, contact them. They will provide an interactive experience for your children that they will not soon forget.
Okay, this has gotten me off on a tangent from my blog post but a worthwhile one indeed. On Wednesday, Wes got permission for Veronica, Beth, Wes and I to visit Sedge House on Sedge Island for the day. It has been a long time since I have tried my underwater photography in Barnegat Bay so I was excited. We all brought our snorkel gear, still and video cameras and drove almost to the end of Island Beach State Park to catch our shuttle boat to Sedge Island. Before our driver arrived, we met Debbie, a member of Reclam The Bay, who was heading out to Sedge House for the day. Debbie has clammed on Barnegat Bay for many years but it wasn't until this last year as a member of Reclam The Bay that she really felt like she was giving back for all the enjoyable times in her life on Barnegat Bay. We also saw many kayakers launching from the shores of Island Beach State Park to explore the shallow waters around the Sedge Islands.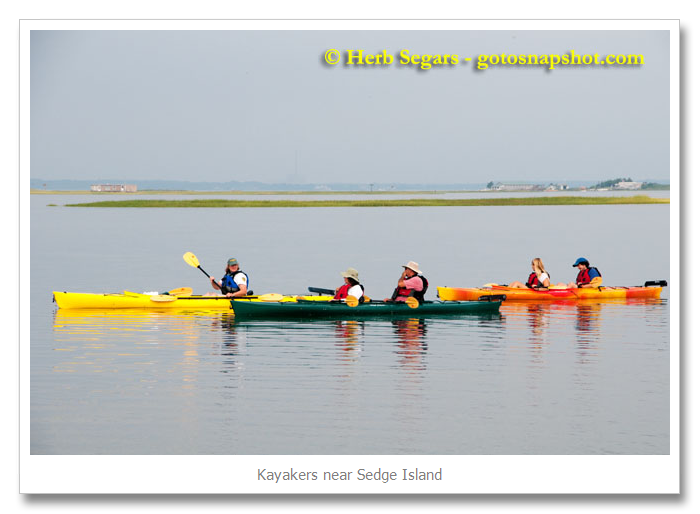 We also met a few state workers who were heading to the island to move an osprey nest from Sedge Island back to the mainland. It was an old nest and it was replaced by a newer one. The old nest was going to be displayed in an interpretative center.
After placing all our gear on the dock, Jeff arrived. He was the captain of the Reclam The Bay boat that was taking us to our destination. It was a short trip on the calm bay waters. Sedge House reminded me of visiting a tropical isle in the middle of the Gulf of Mexico. We prepared ourselves for the usual bad guys – green flies and no-see ums. We were all excited to see what lie ahead in this not-so-normal adventure. I heard stories about John Wnek who is a diamondback terrapin turtle expert and learned about the caretakers on Sedge Island who arrive in the summer and depart in the fall for Florida. It all sounded cool but the real experience was much better than the hype.
We had just unloaded our gear at the dock when Jeff took us for a quick tour around Sedge House. We saw the fenced-in diamondback terrapin nests and the baby diamondback terrapins in the back shed. These only whet our appetites for things to come. It seemed that our tour with Jeff had just ended when John arrived with his son. John took me to the diamondback terrapin nests and looked to see if any of the babies were ready to hatch. One had broken its shell but after close observation, John deduced that it might be another day or so before it was ready to meet the world.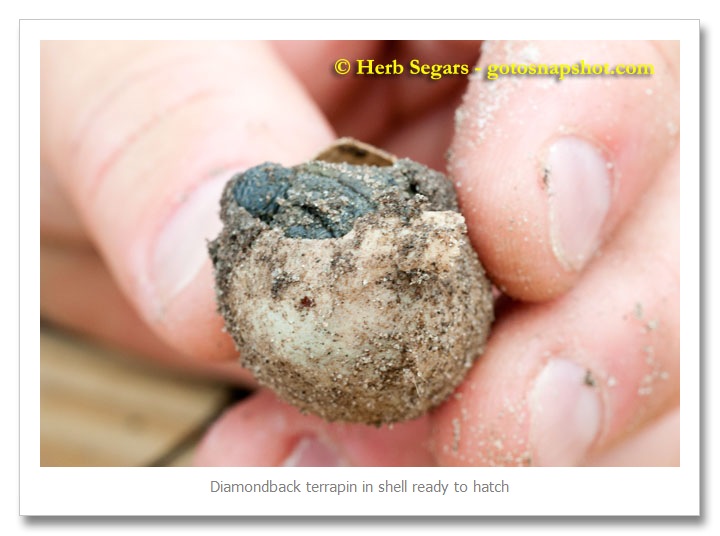 John then took me to the back shed and showed me the baby diamondback terrapin turtles in plastic containers. All were offspring of a mother that John knew. He and his son would weight each baby, measure their size and mark them. I was amazed at how small they were – not much bigger than a half dollar.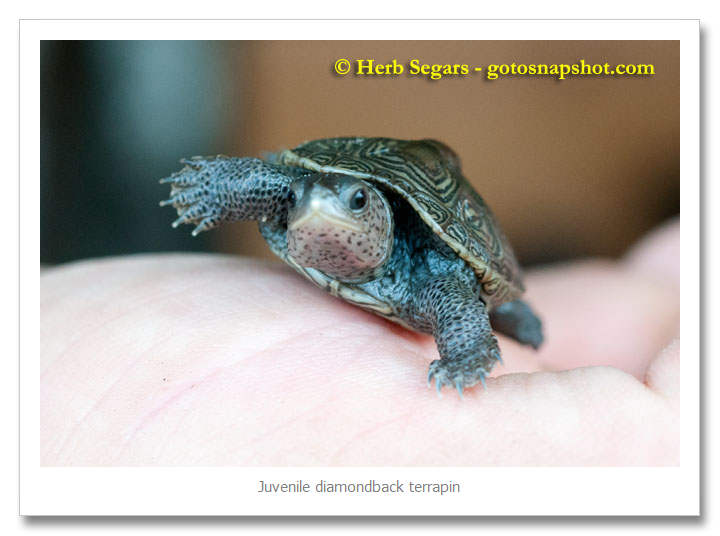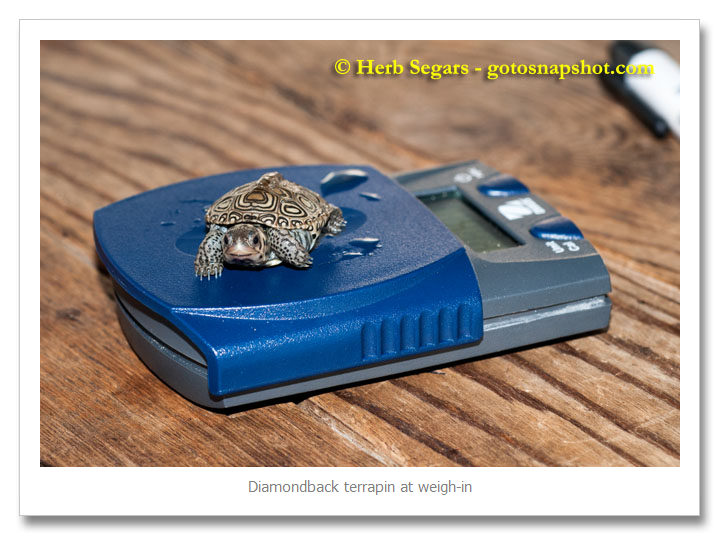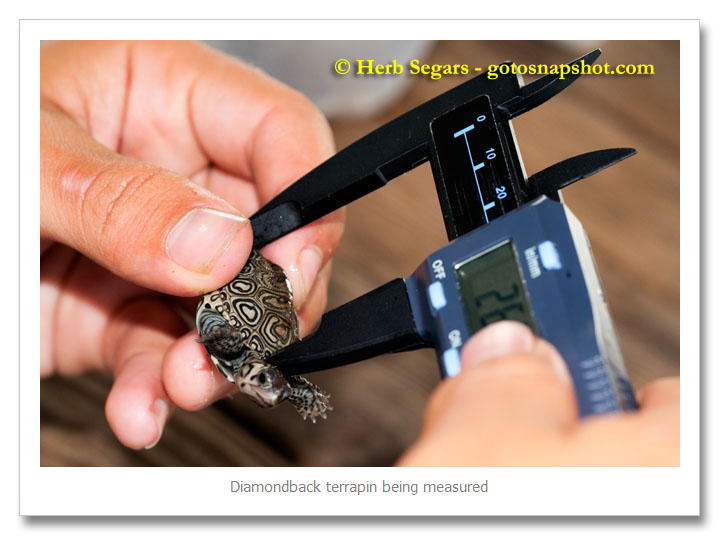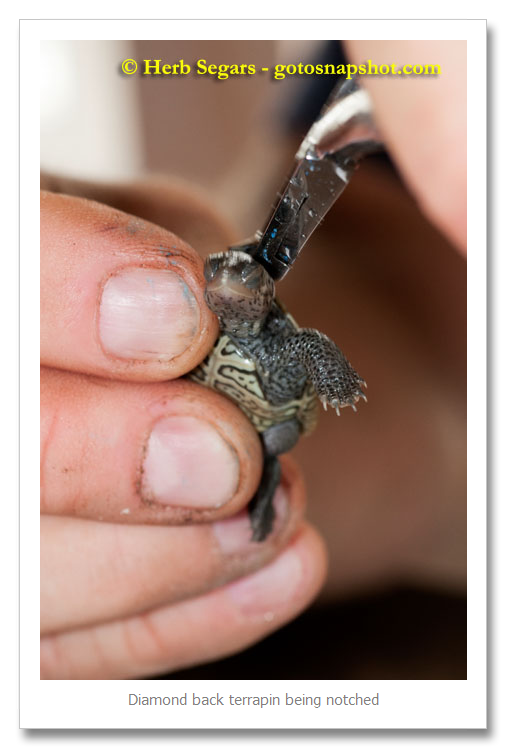 Diamondback terrapin marking: John marked the shell of each of the juvenile diamondback terrapins. He would notch the shell in different areas around the perimeter.
My understanding was that he looked at the shell of the terrapin like a clock and notched using the locations of numbers on a clock face (see below).
Our next adventure was to snorkel and hopefully photograph and/or video the marine life around Sedge Island. Beth, Wes and I donned wet suits, mask, fins and snorkels and entered the water. The first thing that struck me was the visibility or should I say, lack of visibility. I had to get my face a few inches in front of anything to see it. I have to admit I found a few hermit crabs (very small) and some Forbes sea stars.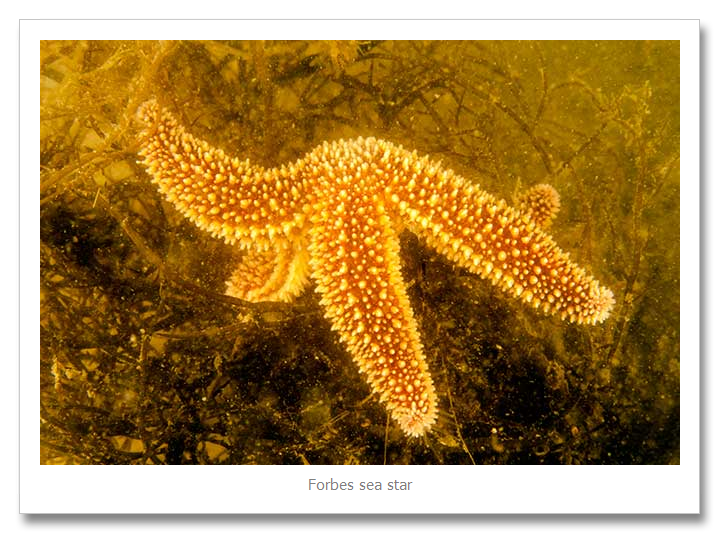 The tide was just starting to go out so I made my away around the clam pens and along the shoreline. I didn't really find a whole lot to photograph so I headed back to the dock. The current was moving out much faster now and as I made my way along the bulkhead to get back to the entry ramp, it was a struggle. I did stop at the dock and tried to get some video of an oyster that was growing on one of the pilings. There was also a lot of red sponge growing on the piling. I had to really fight to stay in place and shoot video. I could never have done anything with still photos as I could not hold myself in the current and use my housing.
Beth, Wes and I joined Jeff, Mary Jo (another Reclam the Bay volunteer and a sweet person) when they took the boat out to do some clamming.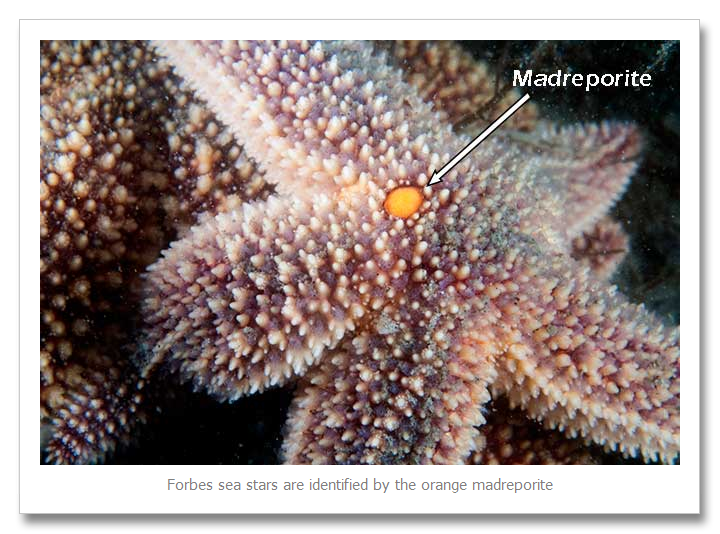 Beth and I tried to snorkel and photograph near the sand bar where they anchored the boat. Marty, a retired pilot, and his dog, Daisy were at the Sedge House and he came to the sand bar in his own boat to clam. The visibility in the shallows around the sand bar was as bad as it was at Sedge Island and the current was moving pretty fast so Beth and I didn't get much in the way of photos but it was fun all the same.
That about did it for us and Jeff was nice enough to give us a ride back to the dock where we said our goodbyes to Jeff, Mary Jo and Debbie and headed home to clean up. It was a fun day and very different for all of us. We hope to go back again real soon.