23 Aug
Posted on 2012 under
Artificial Reefs - New Jersey
,
Backscatter
,
Beth Dalzell
,
Blue Mussels
,
Common sea robin
,
Dykes - Steel Schooner
,
Frilled Anemones
,
GoPro Hero2 HD
,
Herb Segars
,
Invertebrates
,
Nature Photography
,
New Jersey
,
Nikon D300
,
People
,
Photography
,
SCUBA Diving
,
Sea Girt Artificial Reef
,
Summer Founder - Fluke
,
Tokina 10-17mm
,
Underwater Photography / Scuba Diving
,
Veronica Segars
,
Video
,
Wes Dalzell
,
Wildlife
|
No Comment
On Thursday, August 16, 2012, Ronnie, Beth, Wes and I made our way out the Sea Girt Artificial Reef. We decided that today would start with a mussel dive. Last season was a disaster for us from a diving perspective and it also meant that we didn't bring any food home.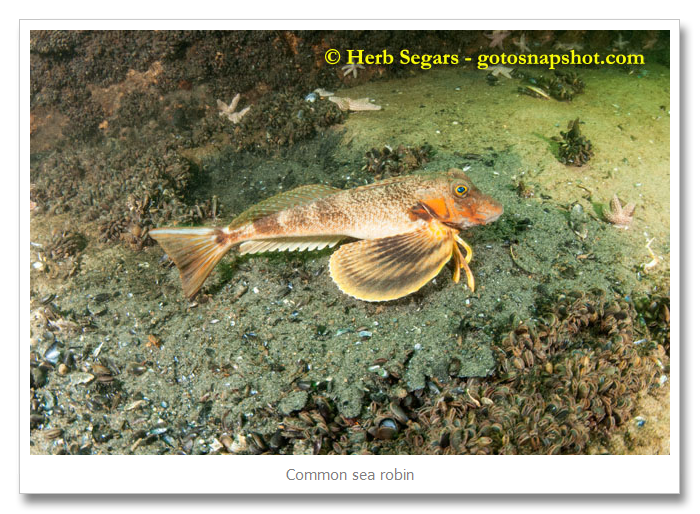 Normally, we try to grapple into the bow because we have found the best mussels there. They are up high and don't have any grit in them. I guess old age must be setting in as I did not remember that I have the GPS coordinates for the bow and choose to steer to another set of numbers that was away from the bow.
Beth and I splashed and there was a moderate current on the surface. I clip off my camera housing and attached strobes to a rope that is connected to my Nitrox tank and that hangs over my shoulder in front of me. This way, I can let go of the entire assembly and let it dangle below me. I have done this hundreds of times and it still makes me nervous.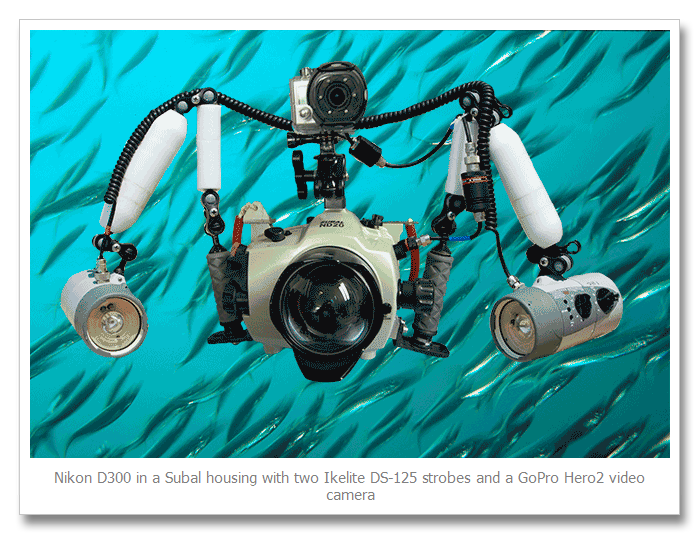 I realized when we got to the bottom that we were not near the bow. There were plenty of blue mussels but there were a lot of small ones. Beth is our designated mussel picker and she was going to have her hands full on this dive. I started roaming around a little to take some photos.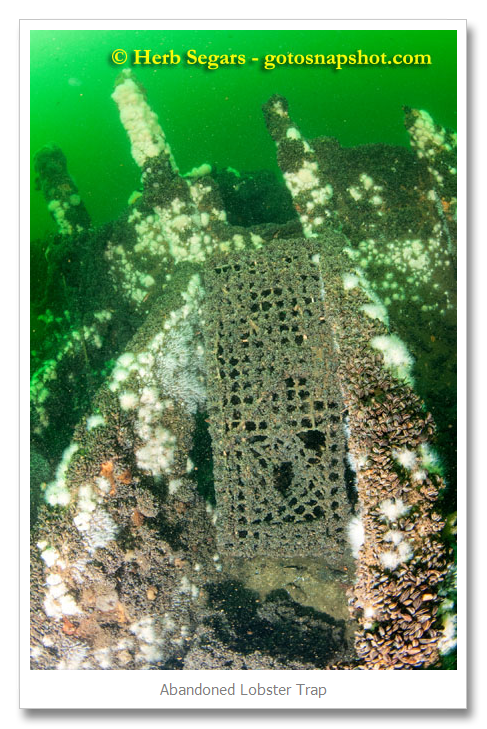 One of the first things that I ran into was an abandoned lobster trap wedged in between two ribs. It was in there so solid that I am not sure that it could be removed.
Juvenile blue mussels are beginning to cover the trap and spanning the openings. It won't be long before they carpet the trap.
The juvenile blue mussels were not the only juveniles that I saw. There were many, many juvenile black sea bass. I easily saw hundreds of them. Many in little clumps of six or seven individuals.
I tried not to stray too far from Beth and I would come back to where she was to make sure that everything was okay. She was working hard to get food for today.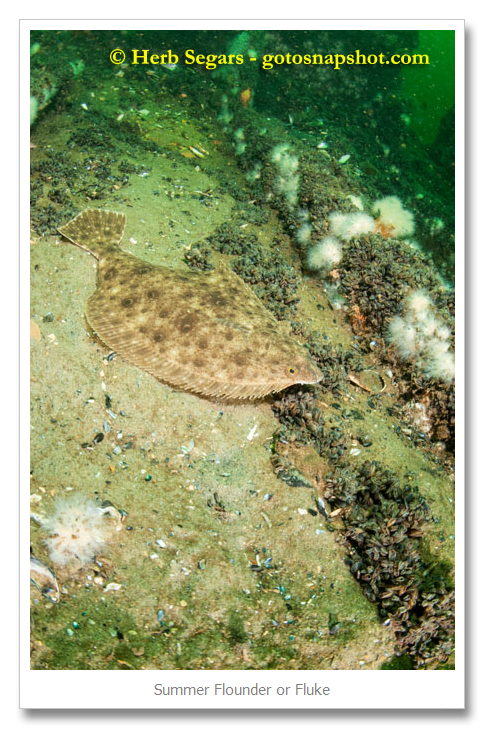 I saw quite a few common sea robins roaming around the sand looking for a meal. I think that they are pretty cool and I really like watching them.
As I came up over the top of a rib, I looked down onto the ground between the ribs and I saw a very nice-sized fluke laying there.
I shot some stills of the fish until it had its fill of me and decided to move off. I moved back to check on Beth and decided now might be the time to shoot some video.
I turned on the GoPro Hero2 which is mounted to the top of my housing. I spent the next fifteen minutes swimming around and shooting video. Having the GoPro mounted to the top of my still camera housing helps it to stay steady when I am using it although the weight of the camera rig takes its toll on my arms.
Another issue that I have been running into lately is backscatter problems with my  Tokina 10-17mm lens at the 10mm end. When there is a lot of particulate matter in the water column, it takes some concentration to position my dual strobes so that they do not illuminate the particles in the water column. I also have to make sure that the strobes are behind the fisheye lens or the brightness of the flash will be evident in the corner or side of the photo.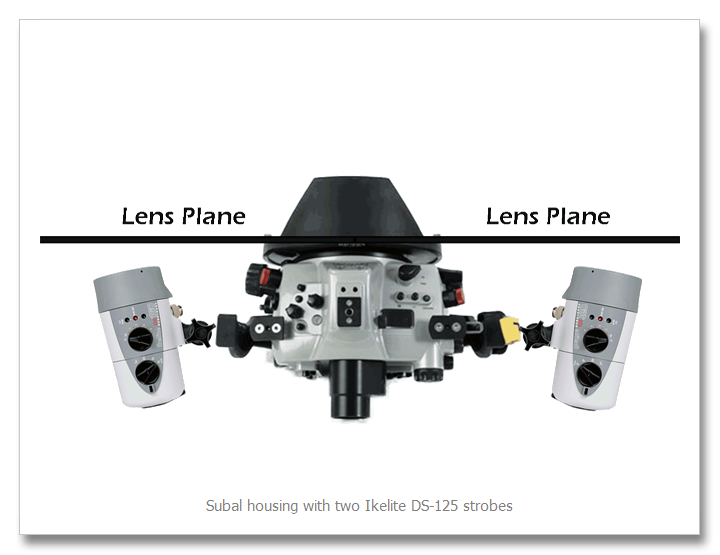 My problem trying to make this work well is that I can't see the problem in the small LCD screen on the back of the housing. I think that I have things aimed well and when I download the images into the computer, I find that I didn't do so well. If I zoom in to the 17mm end like I did above with the photo of the sea robin and the summer flounder, I don't have any trouble getting the placement right. It is the extremely wide angle of view at the 10mm end.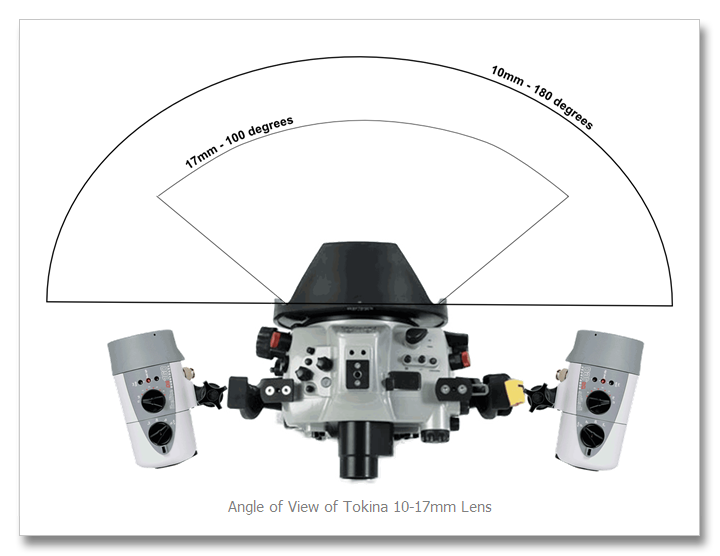 If I tilt the strobes more towards the center when using the 10mm end of the lens, I tend to get some glare and backscatter from one or both strobes in the photo. Usually, the problem seems to be inherent with my left strobe. I am not sure why I have less problems with the right. Here is an example: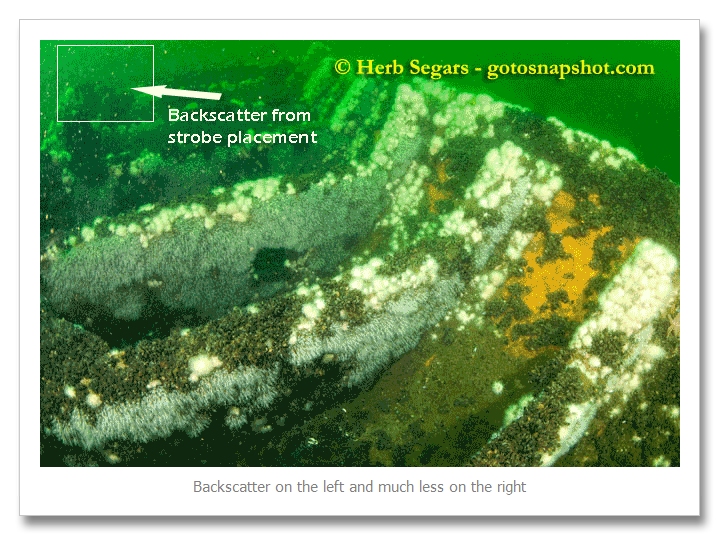 I just wanted to impress how important strobe placement is when using two strobes and a fisheye lens like the Tokina 10-17mm. It is an amazing lens because it focuses so close that I can photograph a large portion of the wreck or reef and still move in close enough to shoot a sea robin or summer flounder. Personally, I like a rectilinear lens rather than a fisheye but there are currently no lenses available for my Nikon system that will focus as close as the Tokina and allow so much diversity in a single super wide angle lens. I have a Nikon 12-24mm and although I like non-fisheye results more than the Tokina, it is not as sharp or does not focus as close.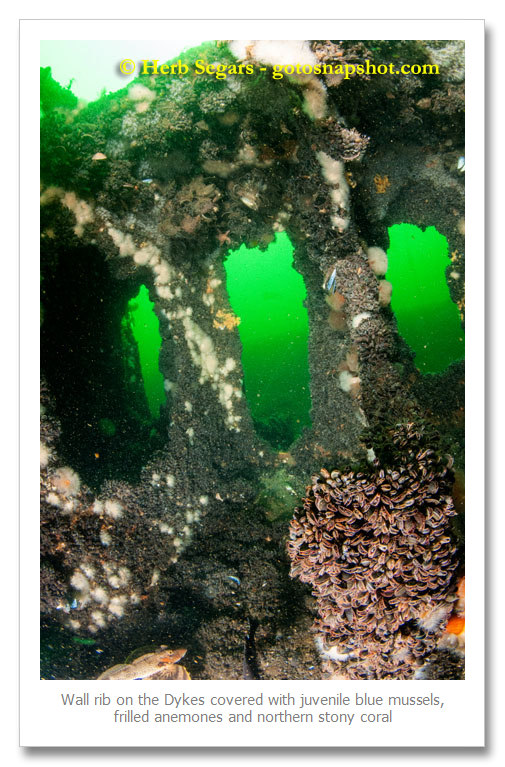 I wasn't planning on getting off into an underwater photography tangent in this post but if I struggle with this, I am sure that others do also. The key to making this better is strobe placement. Keep the strobes back behind the plane of the lens and angle them outward so there is still strobe coverage with the edge of the strobe's light in the middle of the photo. As the strobe is turned inward, the backscatter increases as does the brightness on the side of the image nearest the strobe. Option 2 would be to zoom in a little on the lens.
The 17mm end is much easier to light without backscatter and edge brightness than the 10mm end. Wide angle underwater photography in New Jersey is tough enough. I am happy to supply any information that I have to help others through the progressive struggle that I have gone through.
You can see in the photo at left that there is some backscatter in the lower left hand side of the photo.
That's about it. I am just about finished with the video and it has some nice clips of the juvenile sea bass, common sea robin and summer flounder. I will probably be releasing it next week.