17 Apr
Posted on 2011 under
Artificial Reefs - New Jersey
,
Atlantic Ocean
,
Atlantic Spotted Dolphin
,
Axel Carlson Artificial Reef
,
Black Sea Bass
,
Blue Mussels
,
Blue Sharks
,
Book Publishing
,
Brown Shark
,
Colleen
,
Dolphin
,
Donald Ballinger Memorial Reef
,
Dykes - Steel Schooner
,
Fish
,
Four of Clubs Tug
,
Frilled Anemones
,
G.A. Venturo Tug
,
Goosefish
,
Herb Segars
,
Humpback Whale
,
Invertebrates
,
Jellyfish
,
Lion's Mane Jellyfish
,
Little Skate
,
M60 Army Tank
,
McGurr Tugboat
,
Mohawk
,
Nature Photography
,
New Jersey
,
People
,
Pinta
,
Restorer Tug
,
Rockland County
,
Sandbar Shark
,
Schiffer Publishing Ltd.
,
Sea Girt Artificial Reef
,
Sharks
,
Shipwrecks - New Jersey
,
Skates
,
Spartan
,
Subway Cars
,
Underwater Photography / Scuba Diving
,
Veronica M
,
Veronica Segars
,
Whales
|
1 Comment
I have been waiting to post this notice although many of you that I saw at Beneath the Sea already know the news. I was recently offered a contract from Schiffer Publishing LTD. of Atglen, Pennsylvania to publish my book. The book will come out in the spring of 2012.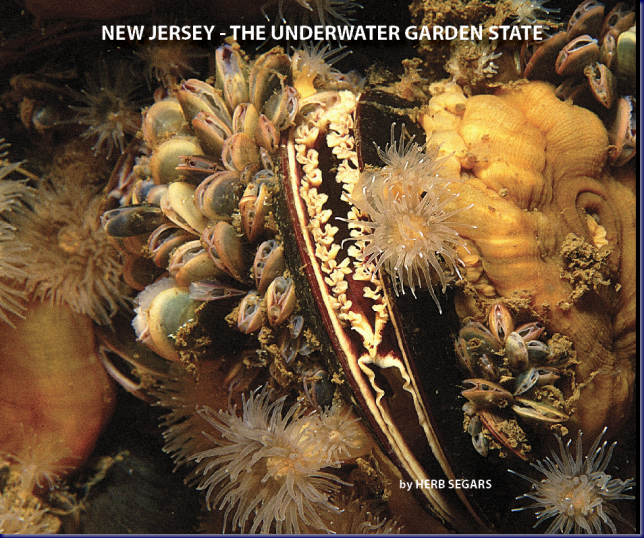 I have a lot of work ahead of me in the coming months. I have a preview of the book that you can see here. This is the way that I perceive the book but I am not sure that it will end up like this. Schiffer Publishing Ltd. editor's will do the layout.
This book has been the culmination of forty years of scuba diving and photographing in the Atlantic waters off my home state of New Jersey. I have seen and photographed some amazing things. One of the areas that I love the most is the surface and mid-water. This is where I find my favorite subjects – jellyfish and plankton. I have spent entire dives hanging on the anchor line at fifteen or twenty feet and loving every second of it. When I was shooting film and using a Nikonos camera, it was easier to capture some of the really small things like the one-half-inch long naked sea butterfly since the Nikonos camera had macro capability with a wired framer. I just had to get the subject between the uprights of the framer and take the photo. Although this is much more difficult with a housed digital SLR, I am thoroughly enjoying the challenge.
The book is full of some of my crazy dive stories like when my wife, Veronica and I were snorkeling around the 2M buoy off Manasquan Inlet. We observed numerous fish and an ocean sunfish circling the buoy. Other boaters stopped to ask if we were in trouble. None had thought that the view below the surface was so wonderful. On another occasion, I was swimming over the deck of the USS Algol more than eighteen miles off shore. The deck was covered with baby scallops and I moved over them, many clasped their shells together and squirted up into the water column.
I have a great photograph of two baby Forbes' sea stars in a mussel shell with two arms of a much larger Forbes' sea star above them. I like to think that the large sea star is the mother telling it's two babies that they can't go out and play until they finish their meal and clean up the shell that they are in.
One of my favorite dives was on the two locomotives off Long Branch, New Jersey. On a few occasions during my diving career, I have been completed speechless when viewing something that takes my breath away. The locomotives did this for me. They sat upright on the bottom about fifteen feet apart and were covered with sea anemones. The sight was one of unbelievable beauty. Schools of black sea bass swam around and under the locomotives. I stood looking at them for nearly ten minutes before I started to photograph.
This is a one-of-a-kind book. Very few people have spent as much time as I have photographing the New Jersey marine community. You will see fish, invertebrates, mollusks, crustaceans, sharks, turtles, seahorses, artificial reefs and shipwrecks. I hope that many of you will enjoy having the book as I enjoyed creating it.
I am collecting names, email addresses and/or mailing addresses for anyone that might have an interest in purchasing the book. There is no obligation to buy. It is only to notify you when the book is available. The contact information will go no farther than from me to the publisher and will not be used for any other reason. You can sign up at the contact form here.