21 Jan
Posted on 2012 under
Artificial Reefs - New Jersey
,
Blue Mussels
,
Book Publishing
,
Herb Segars
,
Invertebrates
,
Jellyfish
,
Nature Photography
,
New Jersey
,
People
,
Photography
,
Schiffer Publishing Ltd.
,
SCUBA Diving
,
Shipwrecks - New Jersey
,
Underwater Photography / Scuba Diving
|
1 Comment
Although I have not been officially notified by the publisher, Schiffer Publishing, my book is listed on Amazon.com, BarnesandNoble.com and a few other book store web sites in the United States, the United Kingdom, New Zealand and Hong Kong. The availability date is May 28, 2012. I have not spoken much about it for awhile but the whole publishing experience has been exciting. My first impression was that it is a lot of work. What I really would have liked would have been treated like royalty – given a big advance and mooned over. Yeah, like that's going to happen. But it's okay. This is my first book and one that I have wanted for longer than I can believe. I am most proud that it is a book about New Jersey. The Garden State, especially underwater, is not on anyone's radar for breathtaking marine life. From my perspective, those who think that there is nothing to see here are all wet! New Jersey has an incredibly rich marine ecosystem that is beautiful and very challenging for the underwater photographer.
Okay, the book has undergone some changes since my first concept. The publisher did an amazing job of laying the book out. The first change that was presented to me was the cover. Although the changes were minor, they looked great. So, here it is – you decide:
I love the way that they designed this. I like the inset photo of Gerry Niel of Mint Hill, North Carolina shooting a photograph on the shipwreck, Lana Carol – a scallop boat that sank in a Thanksgiving storm and the purple jellyfish on the spine.
Before I go further, I should explain that the book is going to be hard cover, 11" x 8 1/2", with 166 pages and 235 color photographs. Schiffer Publishing has been a joy to work with. Everyone there has been incredible.
Some of you may have looked at my original design and a lot of you voted for the front cover. The main image used was chosen from your votes. I had pictured a North American lobster for the back cover but the Schiffer designers had another idea and I liked it better than mine. The lobster image is the last image on the inside of the book. The new back cover is: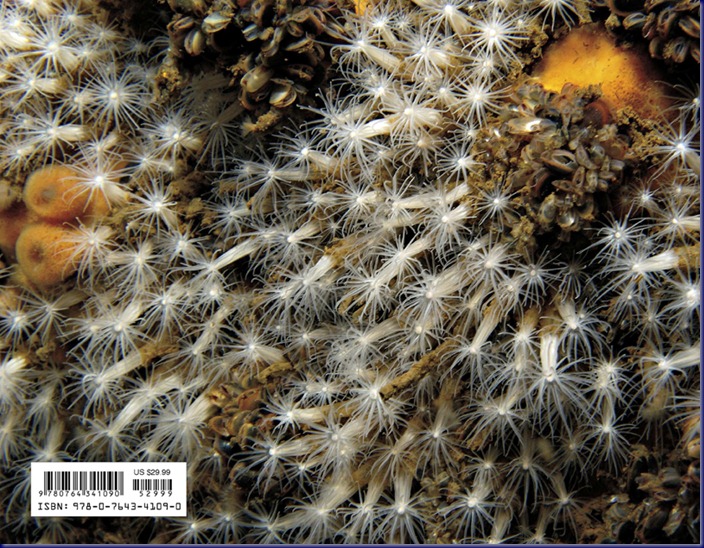 The image of the lined anemones and blue mussels is pretty cool and it enhances the "Garden State" theme. Now, you can buy the book anywhere but if you want a signed copy, you will have to attend a book signing (none are planned yet but there will be) or purchase the book from my site when it is available. If you would like to be notified when the book is available, please fill out the contact info form below. This information will only be used to notify you of book availability and nothing else.
© 2012, Herb Segars. All rights reserved.
Copyright © 2012 Herb Segars Photography Blog