20 Sep
Posted on 2015 under
Atlantic Ocean
,
Ed Camper
,
Herb Segars
,
Inon
,
Inon Z240
,
Mohawk
,
Nauticam
,
New Jersey
,
Olympus OM D-EM1
,
People
,
Photography
,
SCUBA Diving
,
Shipwrecks - New Jersey
,
Trudy Stetter
,
Underwater Photography / Scuba Diving
,
Veronica Segars
|
No Comment
The inshore weather prediction was for 1'-2' seas and a westerly wind at 5-10 knots. It looked like perfect conditions for diving off the New Jersey coast. It was a Friday and four of us were able to make the trip. Ed Kamper, Trudy Stetter, my wife, Veronica and me loaded our gear onto our boat, SNAPSHOT, traveled through the Point Pleasant Canal into the Manasquan River and out Manasquan Inlet to the Atlantic Ocean. For a change, the weather forecasting gods were correct and the ocean was very calm. We traveled the 8+ nautical miles to the shipwreck of the Mohawk at a little over 19 knots and were there in a jiffy.
For a little background, the Mohawk lies off the coast of New Jersey, USA in 76′ of water. A 5900 gross tons passenger liner that was 387 ft. long x 54 ft. wide with a 23′ draft. Owned by the Clyde-Mallory Lines, she left New York carrying 54 passengers, 109 crew and 1200 tons of general cargo bound for Havana. Off the coast of New Jersey, it collided with the freighter, M/V Talisman. A steering malfunction is blamed. The Mohawk and 45 persons went to the bottom. The Talisman remained afloat. The Mohawk is barely recognizable as a ship. It was wire dragged and blown apart to keep from being a hazard to navigation.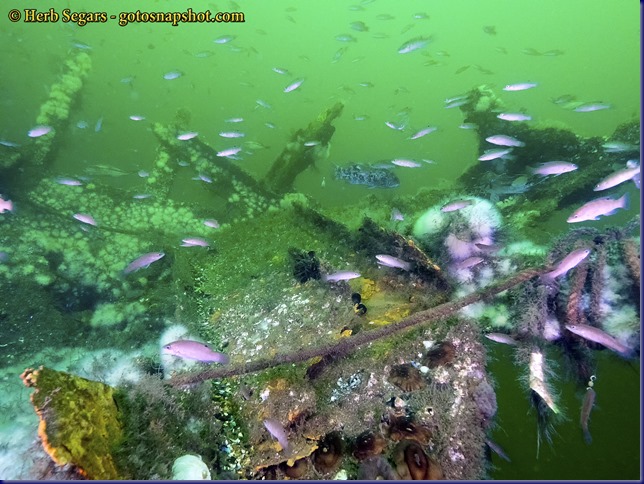 We set the hook and Ed and I started gearing up. I was wondering if the water conditions would be the same as the last time that I was diving about two weeks ago. The upper forty or fifty feet were a yellowish color and the visibility was pretty bad. Below that the visibility opened up nicely but it was very dark – almost like a night dive.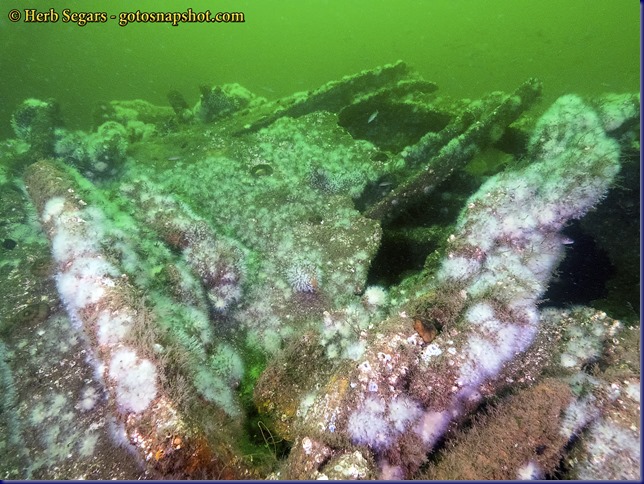 Veronica and Trudy stayed on the boat and awaited our return. When I jumped into the water, I noticed that it was still a yellowish color but the clarity seems to have improved. The surface water temperature was around 74 degrees. As I descended, I hit the thermocline where the temperature dropped to a slightly chilly 59 degrees and remained at that temperature on the bottom.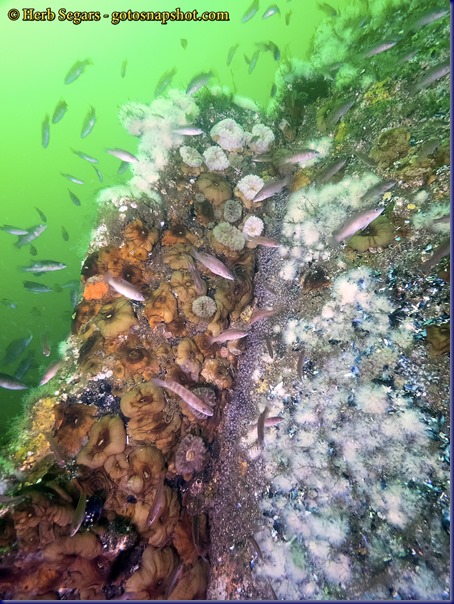 What greeted me at the bottom was around 25' of visibility. This was terrific. It was dark but not as dark as it was two weeks ago. I used my Olympus OMD-EM1 in a Nauticam housing with an Olympus 9-18mm zoom lens, (2) Inon Z-240 strobes and a Sola 800 video/aiming light.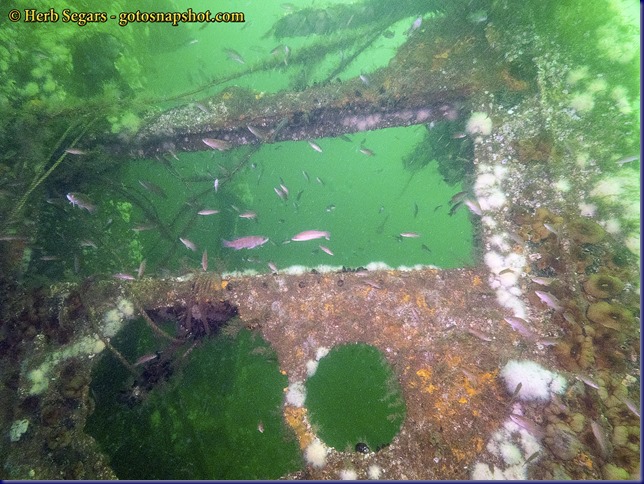 My first course of action was to determine appropriate camera settings for the bottom conditions. My lens f-stop was set at f8. I chose a shutter speed of 1/15th of a second. I have used this slow of a speed before successfully. I now needed to select an ISO that would give me enough available light to take some good photos. I settled in at an ISO of 1250. Pretty high by film standards but not in the new and incredible digital world of photography.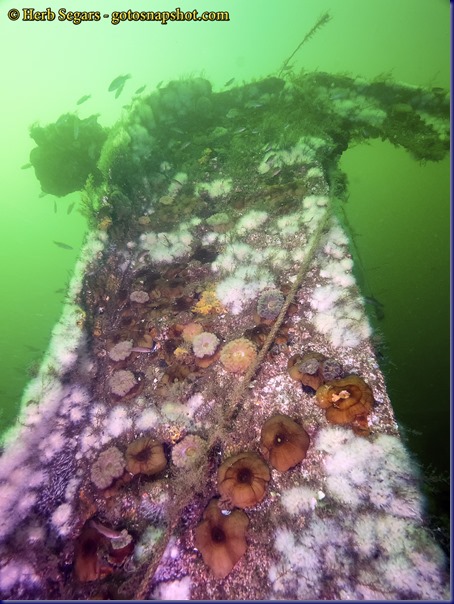 While I was fiddling around with my camera settings, Ed tied his line reel off near the anchor and went out searching for lobsters. A line reel is exactly what it sounds like. It a reel full of line that you tie off somewhere near the anchor. As you roam away from the anchor, you let line out of the reel. When you are ready to come back to the anchor, you reel yourself in. On a wreck like the Mohawk, it is a wise choice to use one.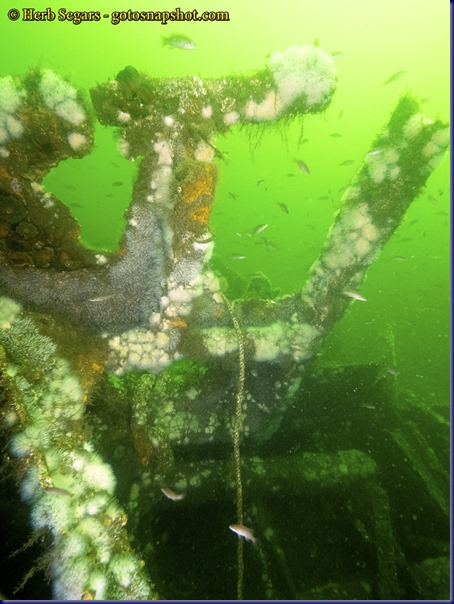 I like to hook into the Mohawk near the edge where the wreck meets the sandy bottom. It allows me to navigate around the edge of the wreck and find my way back. Using a line reel and a camera don't always work out well and I have had times where I have been so tangled in my line reel that Veronica has had to get onto the swim platform and untangle me before I could climb the ladder.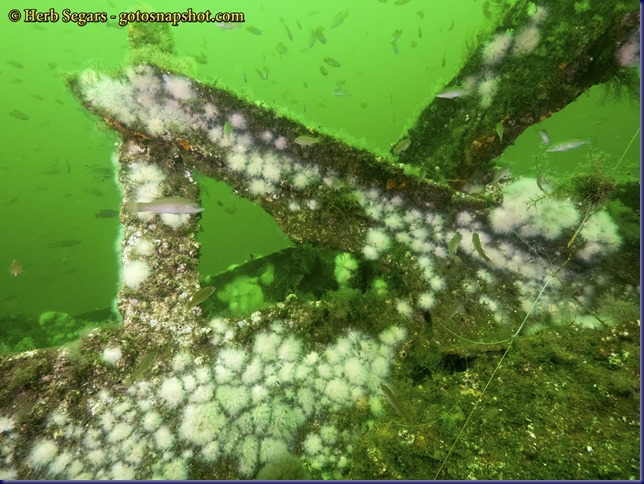 Once you leave the space where the wreck meets the sandy bottom, it is easy to get disoriented because things start to look the same. My approach for today was to stay close to the anchor line and let Ed roam about looking for food.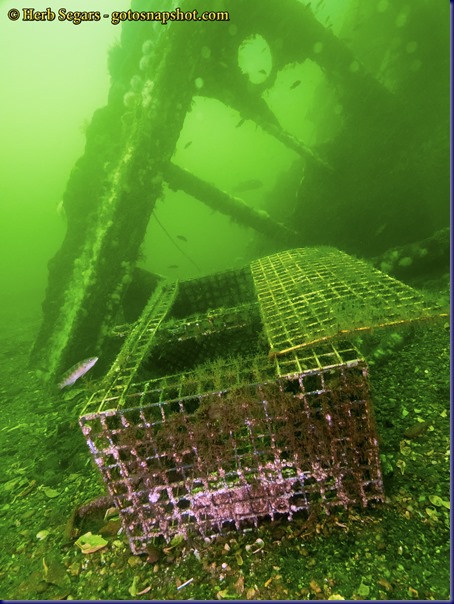 One thing that I noticed while I moved about was the number of lobster pots that were abandoned on the bottom. I saw at least a dozen. They are not here because the lobster men want them to be there. They just dropped the pots too close to the wreck and their lines got tangled in the wreckage and they were not able to retrieve them. That is a costly situation.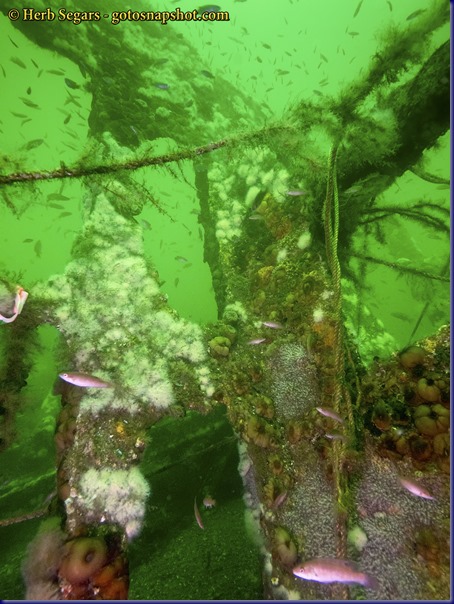 After a forty minute first dive, I returned to the surface. Although the surface water has cleared, I have yet to see a jellyfish. Ed said that he saw one but I did not. Being that they are one of my favorite underwater subjects, I was unhappy.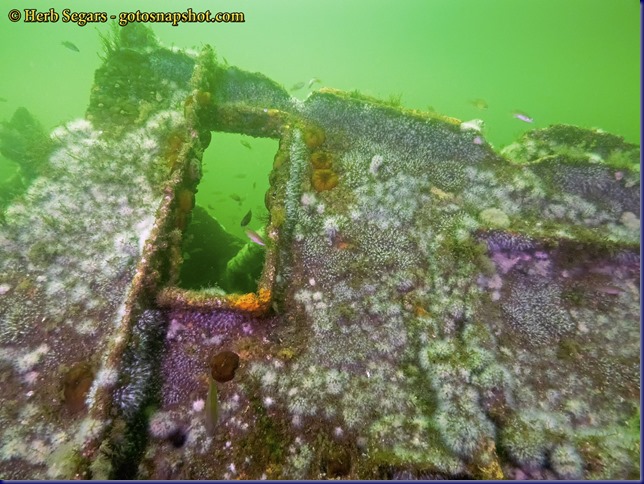 After a surface interval of 1-1/2 hours, Ed and I jumped in for our second dive. Conditions were the same as our first dive and we were both happy. Ed tied his line reel near the anchor line and went in search of lobsters. He found some on his first dive but they proved to be elusive. I did what I do. I tried to zero in my camera and strobe settings to bring back lasting memories of the dive.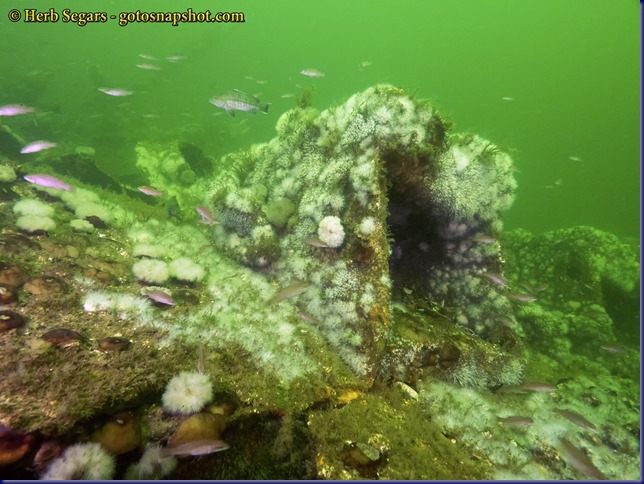 Both Ed and I were wearing wetsuits and the 59 degree water was taking its toll. I was chilled at the end of the first dive and got that way sooner on the second dive.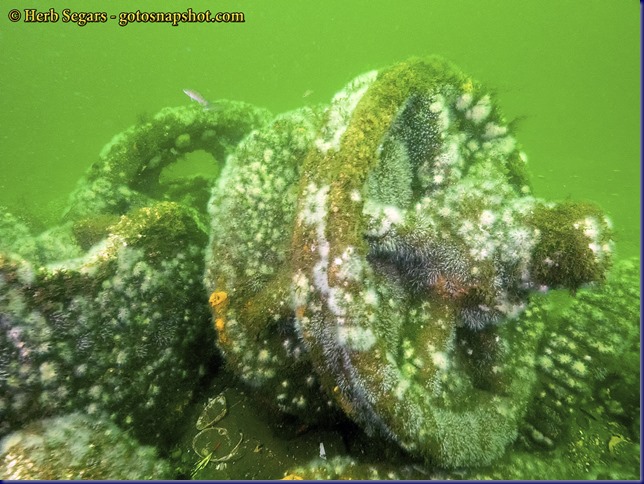 Ed and I both did our thing. I kept looking for interesting photo angles and Ed looked for food. This was the first time that I dove with Ed in the ocean and I couldn't have been happier. He is a very good diver and if I didn't know better (maybe I don't), he reminds me of a hippy from the 60's. I think that he definitely grew up in the era when you thought that everything that you owned would last forever. Look at my last shot in this post. Who do you know that wears a horse collar buoyancy compensator. Nevertheless, I would have Ed Kamper as my buddy anytime.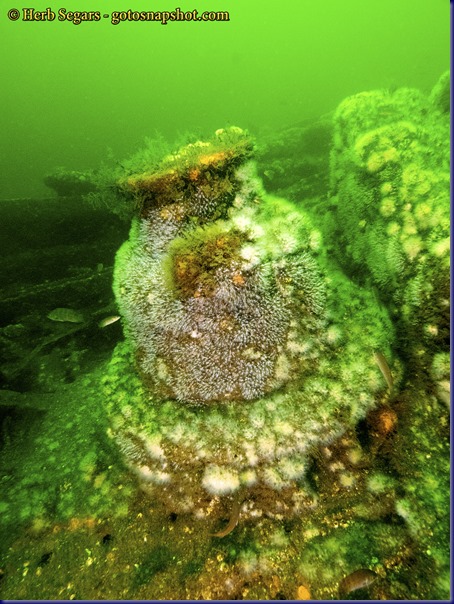 I found so many interesting subjects to photograph. It was one of those fun days both underwater and above water.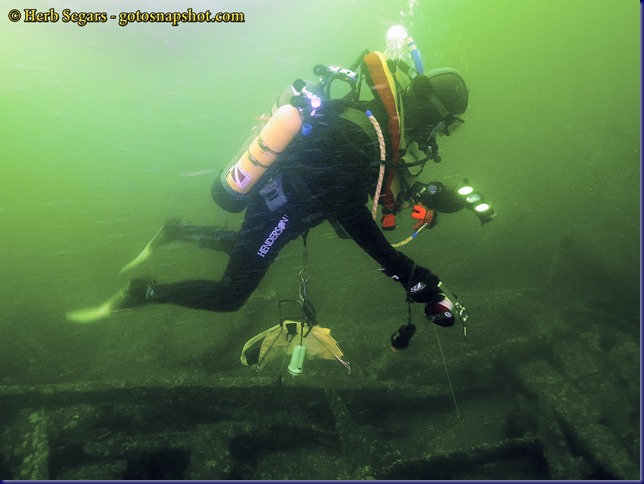 The last thing that Ed and I would do at the end of the dive was to move the anchor into a spot that would make it easy to retrieve. I found what I thought was a suitable spot and pointed it out to Ed. We moved the anchor and headed for the surface.
It was the end to a wonderful day. Trudy had never been on the boat before and she loved every moment. Ed had been on the boat the week before and we were blown out as the ocean was too rough to anchor in. Between dives, we sat in the cockpit of the boat and told old stories and laughed our hearts out. That is the way it is with dear friends. Veronica and I can't wait to do it again.