Over the last 2+ years, I have lost weight – a lot of weight. There are many pluses and minuses of this. All the pluses are great and they are the things in life that are important. I am healthier than I have been in a very long time. I am also in the best shape than I have been in since my late teens and early twenties. The areas where I am held back are normal for someone that is approaching 70 years of age. I try and walk 4+ miles a day. I still scuba dive and am planning to dive with great hammerhead sharks in Bimini in February with Big Fish Expeditions.
The bad parts of losing weight is that I am constantly buying new clothes which is really a good thing but it can be costly. I think that I am reaching a settling point now and if this where I stop, I am okay. I weight considerably less than when Veronica and I married over 43 years ago. My diving equipment has been a costly undertaking. I had to buy a new buoyancy compensator, a new weight harness and now am faced with replacing my 3mm and 7mm wetsuits. First is the 7mm. My first stop was my local dive shop because I try to buy as much of my equipment from then as I can. Unfortunately, I was told that they don't do custom suits. I rented wetsuits from the dive shop and although I could eventually get one on, it was not comfortable and the arms and legs were too long.
I started doing an internet search for custom wetsuits and stumbled on Carapace Wetsuits. Their web site claimed Revolutionary Pricing, custom sizes with very little increase in basic pricing and shipments in three weeks. Since I often procrastinate, I waited until the beginning of December to start my research. I was quickly running out of time. I goggled "Carapace Wetsuit Reviews" and found some that were really favorable. I decided to take the plunge and chose the Endo1 – their deep water diving wetsuit. The base prices was $495 with a $40.00 upcharge for a 6mm suit. Shipping is free and they will allow you to return the wetsuit if it doesn't fit because of some thing that they did wrong. The web site claimed that they could make a custom wetsuit with 12 measurements.
My wife, Veronica, got out her trusty measuring tape and we started the process. I entered all the measurements into the computer and finished my supplying credit card information. The next day, I received an email from Andrew at Carapace Wetsuits asking me to double check the measurement of my thigh. He said that it was probably not correct and I had to ensure that the measurement was made at the biggest part of my thigh. Veronica and I remeasured and sure enough, we were under by 2". I sent in the new dimension but a few days later, I was thinking about this and sent an email asking what did they think the correct measurement might be. The return email said "just what you gave us the second time." I was amazed.
On New Year's Eve, the wetsuit arrived. That day was not a particularly good one for me. I was having problems on a lot of levels and wasn't sure whether to try the wetsuit on when Veronica unpacked it. The first thing that she noticed was what looked like a patch near one of the knees. I was like, "What'', a patch on a new wetsuit. It wasn't until much later that I realized that Carapace Wetsuits puts a key pocket near the knee on the wetsuit. Phew, I am glad that I did not complain.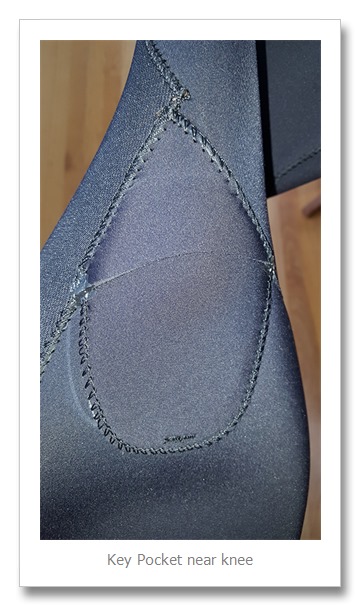 Veronica and I got out the soapy water and headed for the bathroom to give the suit a try. Looking at it, I really believed that I would not fit into it. I slid my legs into the suit and so far all was well. I got the suit over my butt and the lower part of the suit seemed to fit pretty good. I then slid my arms into the arm holes and the shoulders of the suit slid into place. Holy Cow, this thing fits! I pulled the zipper up and velcroed the collar in place.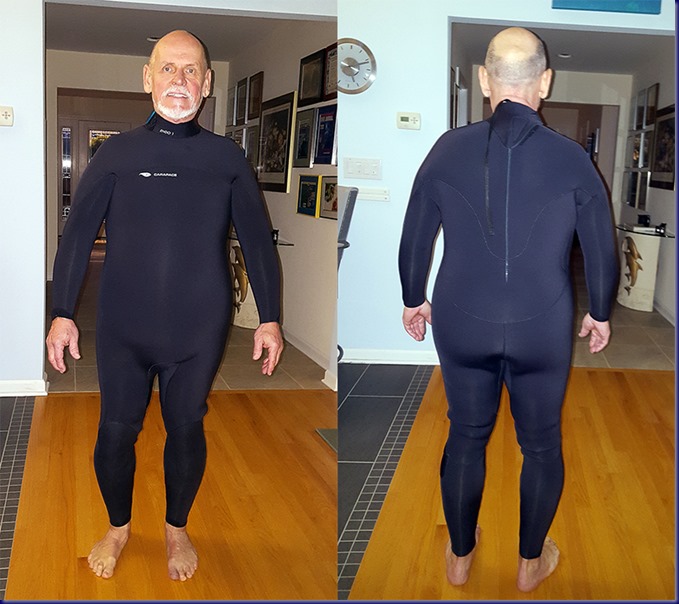 I did some deep knee bends and touched my toes and walked all around the house. The wetsuit felt amazing. I don't believe that I have ever had a wetsuit fit me this well.
There was another feature that I found really cool. Inside each arm cuff and leg cuff was an o-ring type seal that will help keep water from flowing into and out of the suite easily.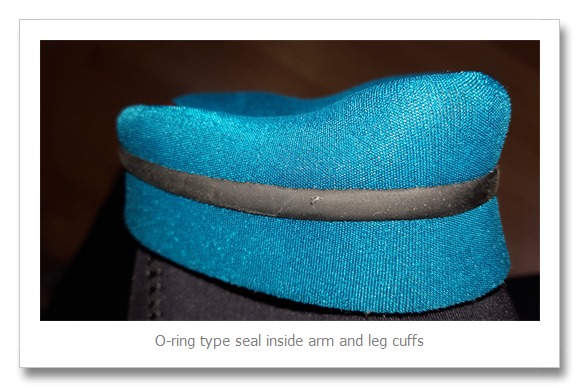 So the wetsuit seemed pretty great. There are a few things that I would like to have different. First is a choice of colors. Currently, the wetsuit is only available in black. Color is certainly not a game changer but it would be nice. My biggest concern is the length of the zipper. I had to wiggle a little to get the wetsuit over my hips. I mentioned that to Andrew in an email and he asked me how much longer do I think that the zipper should be. I measured my old 7mm and 3mm wetsuits and both had 20" long zippers. The Carapace Wetsuit's zipper is 16" long.
Would I purchase another wetsuit from Carapace Wetsuits? I will be needing a new 3mm wetsuit for warm water diving and yes, I will purchase from Carapace Wetsuits.
So that finishes this wetsuit adventure. I will update this after my trip to Bimini. Until next time!